Why
Should you become Aerial Yoga Teacher
Becoming an aerial yoga teacher can offer several benefits:
Unique fitness method
Increased demand
Health benefits
Creative expression
Personal growth
Community building
Career flexibility
Read more...
Becoming an aerial yoga teacher can offer several benefits:
Unique fitness method: Aerial yoga combines traditional yoga poses with the use of a hammock, offering a unique and engaging workout experience for participants.
Increased demand: Aerial yoga has gained popularity in recent years, and the demand for qualified instructors is growing. By becoming a teacher, you can tap into this growing market and potentially find more teaching opportunities.
Health benefits: Aerial yoga can improve strength, flexibility, balance, and core stability. Teaching it allows you to share these benefits with others, helping them improve their physical well-being.
Creative expression: Aerial yoga provides a platform for creative expression and exploration of movement. As a teacher, you can develop your own sequences and incorporate your unique style into your classes.
Personal growth: Teaching aerial yoga can be personally fulfilling as you witness your students' progress and transformation. It also encourages continuous learning and self-improvement as you deepen your knowledge and expand your teaching skills.
Community building: Becoming an aerial yoga teacher allows you to connect with like-minded individuals and build a community of students who share a passion for this form of exercise. This sense of community can be enriching and supportive.
Career flexibility: As an aerial yoga teacher, you have the flexibility to choose your own schedule, teach at various locations (studios, gyms, retreats), and potentially offer private sessions or workshops, giving you the opportunity to create a fulfilling and flexible career.
Remember, becoming a yoga teacher requires dedication, continuous learning, and a passion for sharing the practice with others. Consider these factors and assess if they align with your goals and aspirations.
Save the date
Don't miss the next session
December 3rd to 9th, 2023
April 3rd to 9th, 2024
August 7th to 13th, 2024
Super Early Bird
 Training Fee $ 684
Training + Dormitory $ 754
Training + Private Room $ 817
Training + Bungalow $ 866
Has to be booked at least 90 days before the training starts
Early Bird
Training Fee $ 727
Training + Dormitory $ 797
Training + Private Room $ 860
Training + Bungalow $ 909

Has to be booked at least 60 days before the training starts
Regular 
Training Fee $ 855
Training + Dormitory $ 925
Training + Private Room $ 988
Training + Bungalow $ 1.037

A deposit of $ 90 is required to secure your place in the training
All prices are in USD. Terms & Conditions
*Super Early Bird & Early Bird must be booked 90 & 60 days prior to course start date to be eligible for the discount.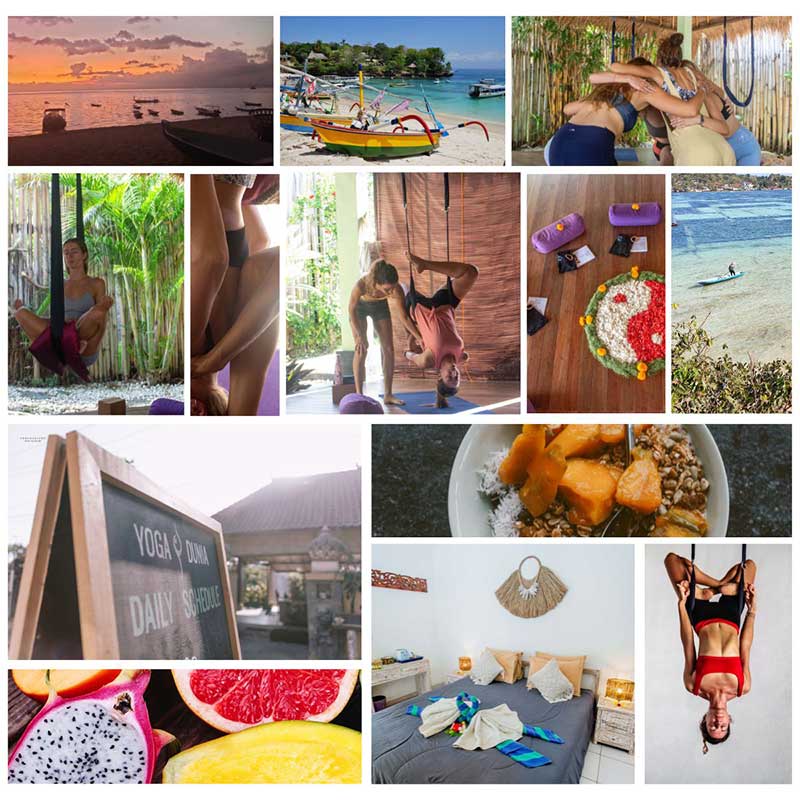 Yoga Teacher Training Fee
What is included in the price?
The cost of the aerial yoga teacher training course includes:
Aerial Course manual printed book
Yoga swing to bring home

All props required for practice

Refill water all day, teas, coffee

Breakfast at Yoga Dunia

Accommodation for 7 nights

Yoga Alliance certificate of completion
What's not included in the price?
Lunch and dinner, the average cost per day is 300.000 IDR

Fly ticket and transfer to the island

Visa Fee, Travel insurance

Personal expenses
Option available for additional cost:
Boat ticket from $ 25 USD
Airport pick Up $ 25 USD
Charlotte - April 2023
A beautiful shala in a fantastic location on the island. I enjoyed every one of my practices here. The studio offers a fantastic range of classes as well as YTTs. I have recently completed my 50hr Aerial and cannot recommend the course and studio highly enough. The team are so supportive, helpful and knowledgeable. Thank you to all of you for a great experience!
Lorelee - April 2023
I am so grateful that I took the 50HR Aerial YTT with Yoga Dunia. Their training structure is excellent and the teaching style ensures that teachers will be fully equipped to share the practice. Pilu is an amazing teacher, and their Shala is beautiful, airy and comfortable. Another bonus is the healthy daily breakfast! Can't wait to go back there. <3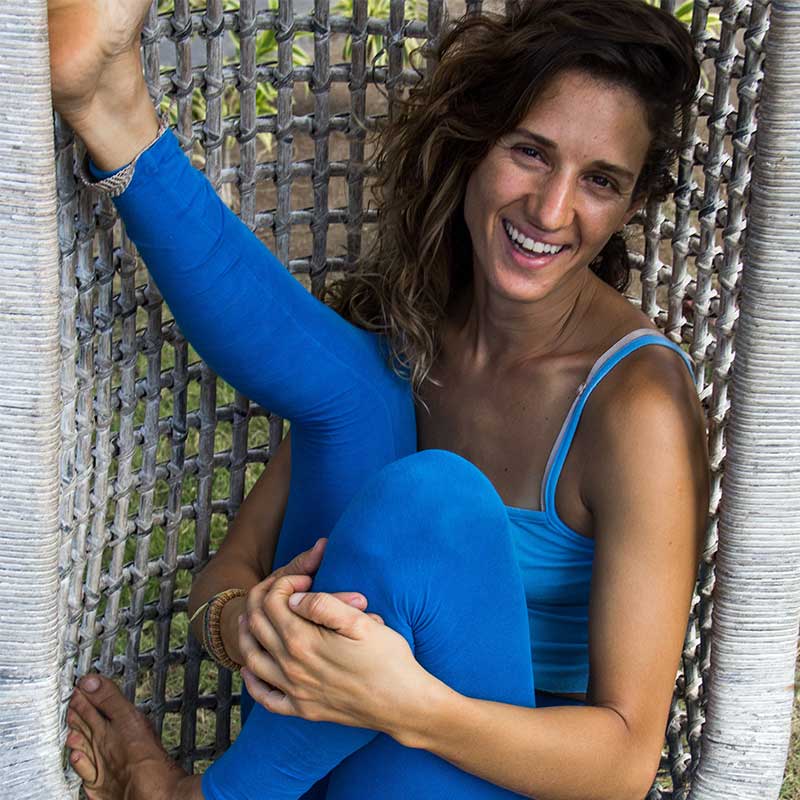 Pilu is the main teacher and the author of the manual and, the founder of Salty Water Yoga.
She has been teaching Aerial Yoga for 7 years and training teachers for 3 years.
She started by assisting in aerial yoga teacher training at The Yoga Barn (one of the largest yoga schools in Bali). Then, she began to offer her own so that she could share her experiences with others.
Her background is Ashtanga and Aerial Silk (circus disciplines).
At the moment she has over 950hs of YTT taken and she is certified E-RYT 200 and RYT 500 Yoga Alliance with a extensive teaching experience
Your Aerial Teacher Pilu from Salty Water Yoga | Full Bio Here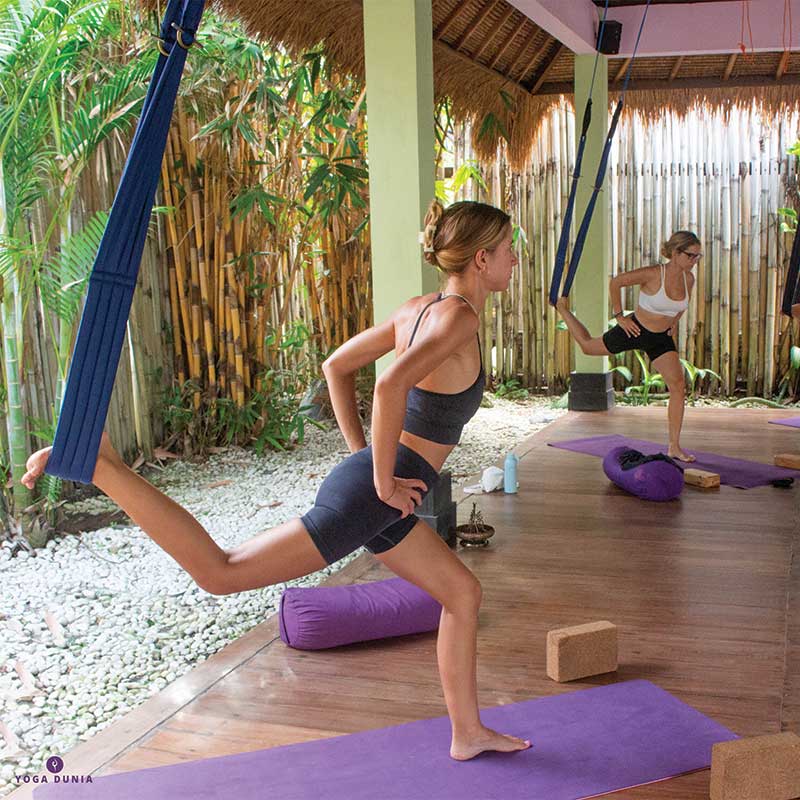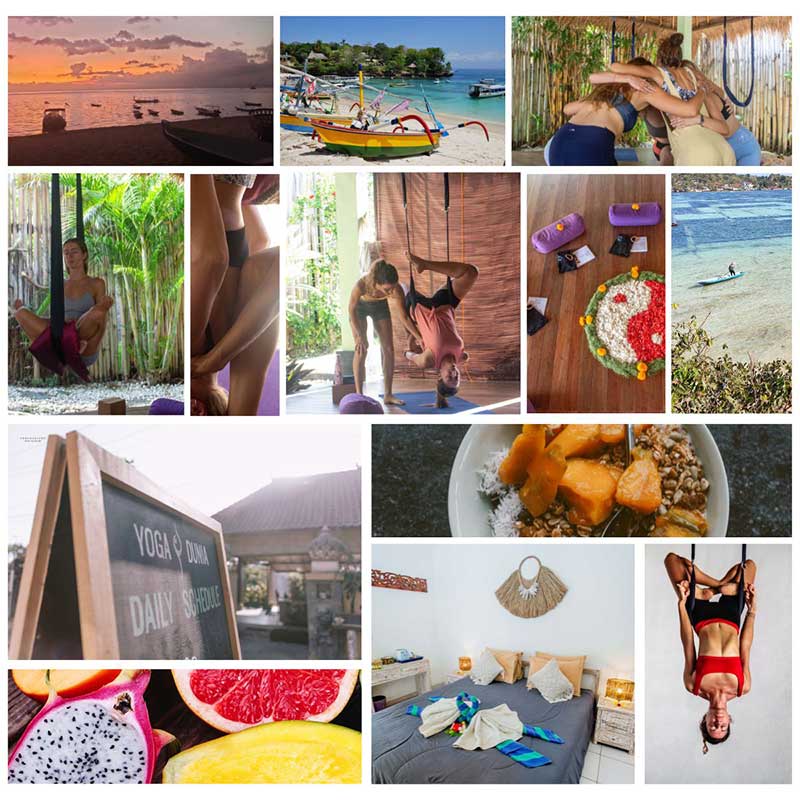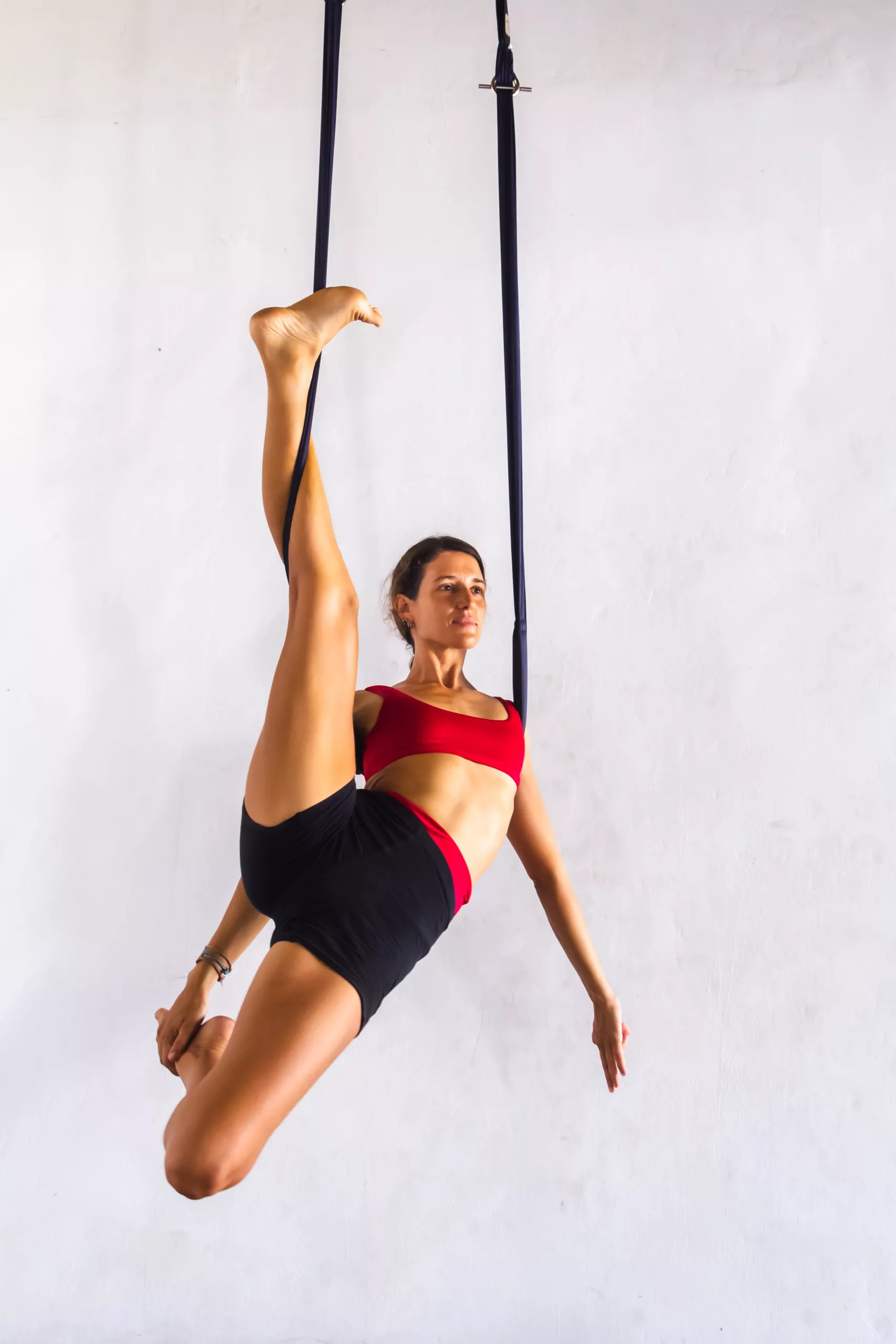 Aerial Yoga Training Course Syllabus
Discover the World of Aerial Yoga: An In-depth Journey
Module 1: Introduction to Aerial Yoga
Understanding Aerial Yoga: Origins, Benefits, and Historical Significance
Exploring Various Aerial Yoga Swing Brands and Their Distinct Features
Distinguishing Aerial Yoga from Other Disciplines
Module 2: The Three Principles of the Manual
Embracing Your Inner Child: Cultivating Connection and Playfulness
Hypopressive Exercises: Techniques for Developing Core Strength and Stability
Promoting Healthy Aerial Yoga Practice: Guidelines for Optimal Well-being
Module 3: Sequencing and Creativity
Unleashing Your Creative Potential: Exploring Limitless Possibilities with the Aerial Swing
Mastering Flying Transitions: Techniques for Safe and Fluid Movement
Crafting a Secure and Effective Sequence: Designing a Structured Aerial Yoga Practice
Module 4: Asana Lab
Understanding Bandhas: Harnessing Energetic Locks for Enhanced Aerial Yoga Practice
Perfecting Aerial Yoga Swing Placement: Achieving Balance and Comfort in Asanas
Exploring 20 Aerial Asanas and Their Variations: Deepening Your Aerial Yoga Repertoire
Module 5: Safety First
Prioritizing Safety in Aerial Yoga: Establishing Protocols and Precautions
Preparing for Class: Essential Safety Measures and Precautionary Steps
Assisting Safely: Techniques for Supporting and Guiding Aerial Yoga Participants
Module 5: Anatomy Applied to the Yoga Practice
Exploring Key Areas: Foot, Knee, Hips & Pelvis, Spine, and Shoulders in relation to Aerial Yoga
Understanding the Anatomy Behind Proper Alignment and Movement in Aerial Yoga
Module 6: Teaching Methodology
Language and Communication: Effective Verbal Guidance for Aerial Yoga Classes
Guiding Inversions: Techniques for Teaching and Practicing Upside-Down Poses
Welcoming Your Class: Creating a Positive and Inclusive Environment
Organizing Your Teaching: Strategies for Structuring and Flowing Through Aerial Yoga Sessions
Assisting Students in Inversions: Supporting Participants Who Struggle with Upside-Down Poses
Have a Question?
Talk to Audrey
Jl Tamarind, Nusa Lembongan, Bali