Aerial Workshop
Every Friday of September
Pain Free backbend Workshop – Aerial Yoga
Suitable for both beginners and experienced yogis.
Back pain, significantly lower back pain is a common issue. During our yoga practice sometimes we let our ego win and we put ourselves into the backbend even if we feel pain (upward dog, bridge pose, wheel pose, bow pose, etc). There are more options than a backbend with pain or don't backbend. With the aerial yoga swing, we can support the spine to extend and notice what are we missing in order to do our backbend free of pain and healthier…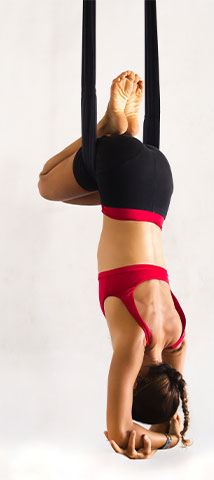 Learn More –
In a healthy spine, our discomfort during the backbend can be caused by:
lack of strength or engagement
lack of flexibility or opening
lack of breath understanding
misunderstanding where the backbend should happen
What is a backbend? It is actually an extension of the spine. 
Support extension of the spine with the swing to better understand the backbends on the mat.
It will help you to:
do your back bends free of pain
understand what to open and what to stabilize
extend the spine by sections in order to bend
feel healthier during your mat practice (upward dog, bridge, wheel, etc)
release pressure on the lower back
Even if we have a healthy lifestyle and healthy spine we can experience lower back discomfort due to posture, tight calf, etc. 
What is the physical purpose of the backbend?
To open the full movement of breath and energy in the front of the body.
The 3 types of backbend are Contraction – Traction – Leverage "
Mark Stephens Book"
Aerial Workshop
Every Wednesday of September
Build the foundations of your yoga practice with this workshop.
This workshop is for you if you are entirely new to Yoga. It will provide the fundamental building blocks to support you in feeling more confident within general studio classes.
We will start by looking at how to create firm foundations with our hands and feet & how this provides a solid base for common yoga poses.
Next, we go through how the spine's four functional movements work – forward, back, side, and twist, and how to engage the whole body within these four functions for maximum benefit.
We explore alignment principles of your joints, how muscles engage and how poses can be adapted to suit your personal biomechanics and ability.
We then put everything together into a flow sequence using a traditional Sun Salutation, with some common yoga postures, so you experience how to link the breath with movement.
We finish with deep relaxation and a short meditation.
These fundamentals can be adapted to an extensive range of yoga postures that facilitate the body in the same functional way, aiding your progression within your personal yoga practice and journey.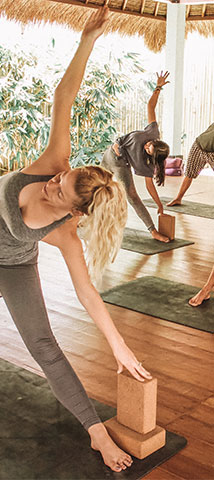 Yoga Dunia was founded in November 2017 with the intention to bring Yoga to everyone.