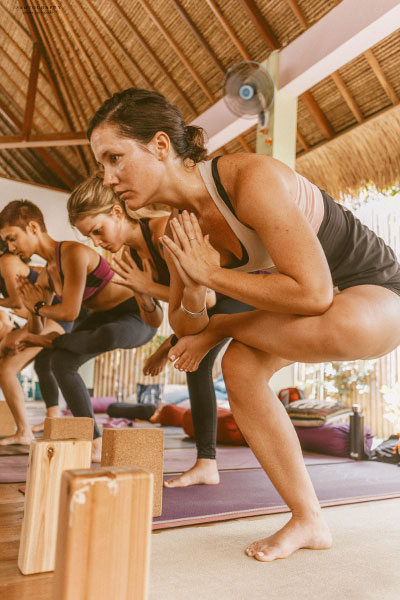 Yoga Classes Lembongan by Yoga Dunia
Yoga Dunia was founded in November 2017 with the intention to bring Yoga to everyone. Our Yoga classes are designed to be suitable for everyone.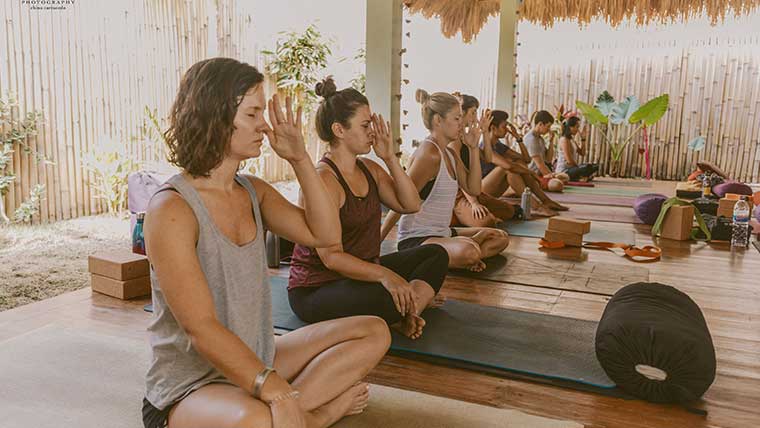 Hatha Yoga
This class is a set of physical postures (asanas), breathing techniques (pranayama), and Meditation. This practice is slower and more static than Vinyasa Flow. This class will include breathing practice, asana (postures), and meditation.

Morning Flow
This class is a mix of Hatha and Vinyasa styles of yoga, the poses flow with the breath and are more static holding the poses for a few breaths. Each day is themed for a different body part. The class includes standing, seated, and supine poses to bring awareness to your physical body, and connection between your mind, breath, and body.

Yin/Yang whole body
In this practice, we use a combinational approach of both the reflective slow Yin yoga style and our more active yoga styles to create functional space whilst building strength and mobility in the whole body. We will start the practice with functional movement techniques together with traditional yoga poses and strength building to both invigorate and encourage heat that will lengthen and stretch the muscles. In the second half of the class, we will begin to slow down and take our Yin yoga shapes, working into the connective tissue web of the body, aiding your flexibility and joint mobility. We end the practice with a deep relaxation. By the end of the class, you will feel balanced both mentally and physically providing the perfect start to your beautiful island life day.

Lower Body Yin Yoga
A Yin yoga practice can be so rejuvenating, providing a space to slow down and tune into ourselves. This yin yoga class focuses on the lower body, particularly the lower back, hips, pelvis, and hamstrings. It will help you with increased flexibility and joint mobility. Yin yoga is a slow and meditative style of yoga that targets the connective tissues of the body whilst allowing the muscles to remain relaxed. The focus is on surrendering into the pose, staying with all sensations that arrive, and ultimately experiencing a deep letting go and a sense of calm. We end the practice with a deep relaxation.

Upper Body Yin Yoga
A Yin yoga practice for the upper body, to fully target releasing tension and stiffness in your neck, shoulders, arms, and upper back. The focus will bring an opening at the heart centre, in particular, to encourage blood and energy to flow through areas of the body that tend to get constricted by how we can consciously or subconsciously physically carry ourselves and all the things we can mentally and emotionally hold onto, which can then, in turn, affect the functionality of our physical body. We end the practice with a deep relaxation.

Yin Yoga for the whole spine and Nervous System
A Yin yoga practice, together with some myofascial release techniques, rejuvenates the whole of the spine. We will start the class with a myofascial release to ease gently into the SI joint within the sacrum, a common area for lower back complaints, and slowly work up the whole spine. We finish with a Cranial sacral release technique and work with the Vagus Nerve. This practice is structured to provide an effective way to rebalance the nervous system, in addition to releasing tightness and tension through the back body, leaving you both calm and refreshed. We end the practice with a deep relaxation.

Yin Yoga flow with yang transitions - Full body
In this Yin yoga full body flow practice, we will flow through our Yin yoga shapes to target the hamstrings, hips, lower back, shoulders, and heart to lengthen the whole connective tissue web of the body from top to bottom. Your whole body will receive an intense Yummy Yin yoga experience. We will use some Yang transitions and cat/cow flows to aid the movement of the sequence and you will leave the class feeling lighter, refreshed, and invigorated. We end the practice, as always with a deep relaxation.

Fascia Friday
In this practice, we target the fascia web system using both specific self-myofascial release techniques/ball therapy and how we can integrate this within our Yin yoga poses, known as Myoyin. Self-myofascial release is a practice that deeply compliments our other yoga styles and movement modalities, and has a profound effect on calming your nervous system. It is a self-care skill that will benefit both your physical health and overall feeling of wellness. Myofascia release is an incredible practice to unwind habitual physical patterns, tension, tightness, and pain in addition to improving the tone of your skin and releasing emotional and mental stagnation. We will end the practice with deep relaxation.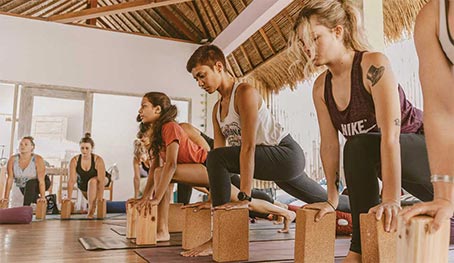 How long is the class?
The yoga class is 75min long.
I'm a beginner, may I join any class?
Yes, you can join any class. Our purpose is to bring yoga to everyone so we adapt our class to the students.
What Should I Bring?
You! we provide all the yoga equipment needed for each class.
Do I have to book in advance?
Booking in advance is not mandatory, but we recommend to our students be there 10 min before the class starts.
What Should I Wear?
We recommend wearing comfortable clothes. 
What is the price for one class?
Drop-In class – single class is 100.000Rp, we also offer some packages like pack 3 for 270.000Rp or pack 5 for 450.000Rp. ask at the reception on arrival.