100h Yin Yoga Teacher Training Bali 
A Yoga Alliance Certified Yin Yoga Course Bali
About our
100hr Yin Yoga Teacher Training Bali
Welcome to our Yin Yoga Teacher Training at the Yoga Dunia studio in the serene paradise of Nusa Lembongan, Bali, just 3 minutes away from the enchanting beach. Our studio, nestled in this peaceful location, provides the perfect backdrop for your transformative journey into Yin yoga.
Why should you embark on this Yin yoga teacher training course? Our comprehensive 100-hour program not only personalizes your Yin yoga practice but also equips existing yoga teachers with the skills and certification to lead Yin yoga classes. Delve into the essentials of Yin yoga, its origin, and the philosophy behind the practice. Its connection with traditional Chinese Medicine, understanding Meridians, the 5 elements, and the energy flow concepts. Exploring meditation and pranayama practice, studying Asanas and participating in learning labs, engaging in Myofascial release and Acuyin, grasping essential anatomy principles, and acquiring valuable insights into teaching methodology, lifestyle, ethics, and the business side of teaching.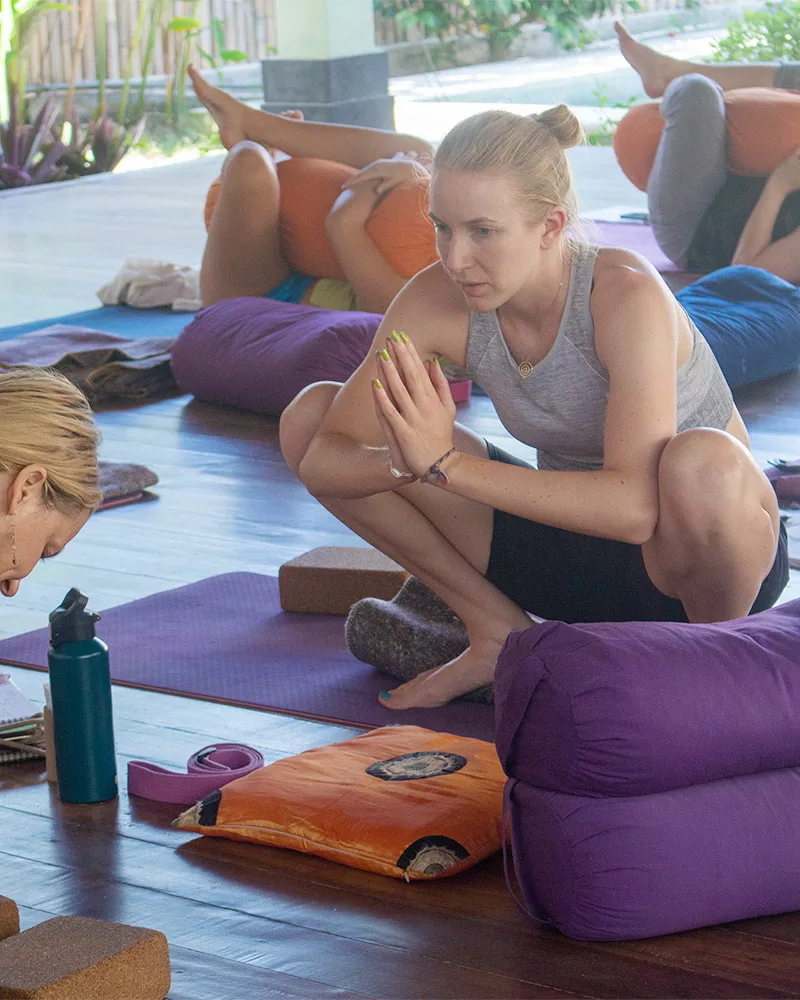 Next session
June 14 to 25, 2024
Immersive Learning experience
Enhance your life balance
12 days Yin Yoga Training Course
Tropical Island of Nusa Lembongan, Bali
The Yoga Dunia Bali Yoga School team works to create a respectful learning environment in a safe and peaceful space where everyone can improve their skills, learn all aspects of yoga, absorb all the benefits and incorporate them into their daily life and yoga journey.
Yoga Dunia Team
Nestled in the heart of this tropical haven, our 100-hour Yin Yoga Teacher Training is designed to deepen your understanding and practice of Yin Yoga. Renowned for its remarkable benefits, Yin yoga excels in improving both range of motion and flexibility. Through extended, passive postures, it targets deep connective tissues, promoting tension release and increased joint circulation. This unique approach not only enhances physical flexibility but also fosters mental well-being, offering a meditative space for mindfulness and stress relief. Join us in exploring the transformative power of Yin yoga against the stunning backdrop of Nusa Lembongan, Bali.
Whether you're a yoga teacher seeking to expand your expertise and be a certified Yin Yoga Teacher, or a dedicated student aiming to deepen your practice, our course is tailored to meet your needs.

Yoga is a journey, not a destination. It's essential to approach your practice with patience, curiosity, and a willingness to learn and grow.
Yoga Training
Dates and Times
The training starts on Friday 14 June 2024 at 2 pm with our welcome circle to meet each other followed by your first Yoga practice.
The training ends on Tuesday 25 June 2024 after the certificate ceremony followed by a celebration dinner.
The training starts on Friday 15 Nov 2024 at 2 pm with our welcome circle to meet each other followed by your first Yoga practice.
The training ends on Tuesday 26 Nov 2024 after the certificate ceremony followed by a celebration dinner.
Your Training, your choice
Explore our range of yoga training packages, each tailored to meet different needs and preferences. Whether you're looking for essential training, budget-friendly accommodation, a standard option, or our most popular option, we have the perfect package for your yoga journey.

*Super Early Bird & Early Bird must be booked 90 & 60 days prior to the course start date to be eligible for the discount.
All prices are in US Dollars
What is included in the price?
The cost of the yoga teacher training course includes the following:
100 hours of the in-person course
Buffet breakfast at the studio on every training day
Course manual printed book

All props required for practice including Yoga mat, block, strap, and bolster

Refill water all day, teas, coffee

Accommodation for 12 nights, if selected

Certificate of Completion printed and electronic with the option to register those hours as Continuing Education with Yoga Alliance if you are already a 200 RYT
What's not included in the price?
Lunch and dinner, the average cost per day is 300.000 IDR, and many restaurants are available near the studio.

Fly ticket and transfer to the island, the nearest airport is Ngurah Rai International Airport (code DPS) 

Visa Fee, Travel insurance

Personal expenses

Stationary as pen, notebook…
Option available for additional cost:
Boat ticket from $ 25 USD
Airport pick Up $ 25 USD
What you will learn
Course Syllabus
Yin Yoga Teacher Training Program
Our 100hr Yin Yoga Teacher Training Bali is built following the Yoga Alliance requirement to offer a full, intensive, and comprehensive learning experience.
This course equips you with valuable skills to enhance your yoga journey. For existing yoga teachers, it provides the confidence and professionalism needed to skillfully teach Yin yoga classes. Whether you're refining your practice or venturing into teaching, our program prepares you for a journey of mastery and confidence in the art of Yin yoga.
Anatomy & Physiology
Functional anatomy and the body system, Connective tissues & fascia, digestive system and the diet in Yoga, nervous system – Vagus nerve
Techniques & Practice
Daily Yin Yoga class practice – Asana Lab – Variations & Modification – Contraindication – Meditation and Pranayama:
Incorporate mindfulness and breathwork
into your practice and teaching
Yoga Philosophy and History
What is Yin Yoga, Taoism philosophy, from Paulie Zing in the 70's to today, learn where Yin yoga comes from
Traditional Chinese Medicine
Meridians Systems – Concept of QI or Life force – The 5 elements
Sequencing & Teaching Methodology
Learn to create effective sequences and
teach with confidence
Assisting & Corrections
Gain skills in demonstrating, observing, assisting, and correcting students
Ethics and lifestyle
Understand the ethical responsibilities of a yoga teacher and the modern yoga landscape 
Business of Yoga
Insights into the business side of teaching yoga
Practicums: Practical teaching experience to build your confidence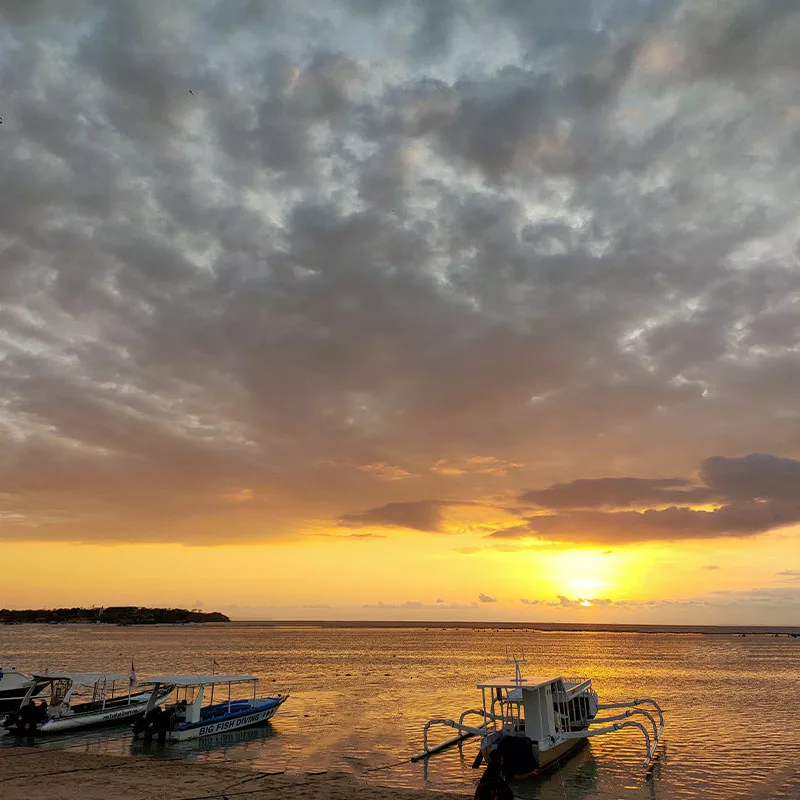 Course Structure
Daily Schedule
The course starts at 2 pm with a welcome circle to get to know each other and concludes on the final day with a celebratory dinner (the dinner is not included in the fee).
Typical daily yoga course schedule
7.00 to 8.30 – Yoga, Meditation & Pranayama practice

8.30 to 9.15 – Breakfast break

9.15 to 12.00/12.30 – Lecture

12.00/12.30 to 14.00 – Lunch Break

14.00 to 16.30 – Lecture, Workshop

16.30 to 17.30/18.00 – Yoga, Meditation & Pranayama practice
Days are between 7 to 8 hours long
*The schedule is subject to change in accordance with the needs of the Yoga training course.
The Yoga Dunia Team
Meet your Teachers & Host
Your host, Audrey, has been living here in Bali for 8 years and she's here to assist you.
Delphine B Yoga – Yoga Teacher RYT-555hrs & WYS-200hrs
Delphine Berclaz was born in a small village in Switzerland where Yoga almost didn't exist at that moment. She started her yoga journey in Geneva more than 10 years ago. At that time, she was not sporty at all, neither flexible nor strong. Soon, she began to practice every day.
In 2017 Delphine moved to Singapore where she lived for 5 years. In 2019, she did her 200hrs certification in Hatha and Ashtanga with Master Sree at Tirisula Yoga without having in mind to become a Yoga teacher. Read more…
Bundle
Special offer
When you book two training at once, you'll receive a 10% discount on the total cost. This is a fantastic opportunity to enhance your yoga teaching skills with a comprehensive training experience.
Please feel free to reach out to us for more details or to make your booking. We look forward to assisting you on your yoga journey!
Book one after the other
For example if you book the 100h Yin yoga TTC and then later book the 50h Aerial yoga TTC you will pay
Book once at the time*
*Available for consecutive training or not
In the case, you decide to book the 2 training at once, you get 10% and pay only
Why Choose US
What makes us different from most other yoga training schools in Bali.
The Location
Yoga Dunia is located on the magical island of Nusa Lembongan, just a short 30-minute boat ride from beautiful Bali. The studio itself is located 3 min from the beach and 5 min from restaurants and convenience stores perfect for your immersive yoga training in Bali.
Course Structure
High-quality yoga training course in 12 days.
one day off to discover and enjoy the island lifestyle. Well-structured and balanced days, a mix of yoga practice, lectures, and interactive study lab.
Lead Trainers
Our teachers' trainers are truly experienced professionals. They are all living here in Nusa Lembongan, Bali, and are a part of the community. Our yoga teachers are all at least E-RYT 500.
YOGA ALLIANCE ACCREDITED
This Yin yoga course is a Yoga Alliance Accredited Continuing Education, those of you who are already 200 RYT will be able to register these hours with Yoga Alliance.
16 Students Maximum
In our Yoga Teacher Training Bali course, we are keeping a human-size group, to provide high-quality studying, intimate and personalized attention from our Instructors. A good condition to prepare for your yoga teacher training certification.

All year open yoga studio
A real Legal Yoga Studio, well established since 2017, not just a hosting resort.
We are genuinely like a family, guiding you in your yoga journey.
Invested in the community all our suppliers are Nusa Lembongan or Bali-based businesses.
READY TO JOIN US
Secure your spot now
Join our Yin Yoga training and embark on a transformative journey that will redefine your yoga practice. Expand your understanding, unlock your potential, and discover the soothing magic of Yin yoga while gaining the skills to confidently and professionally guide your own Yin yoga classes. Join us in this unique experience and let Yin yoga open new horizons in your well-being journey.
Congratulations!!!
Choose your dates and proceed with your booking to secure your spot in our 100h Yoga Teacher Training in Bali.
Not Ready yet, you need more information before enrolling in the training, we understand the decision is a big one with many things to take into consideration. Don't worry if it all feels daunting, we are here to help!

Fill out the form to download our brochure with all the information you might need to join the journey
If you'd like to have a conversation with someone, that's no issue at all! Feel free to reach out to our dedicated manager, Audrey. She's just a message away on WhatsApp at +62 823 3907 4055.
Whether you have a quick query or need in-depth information, Audrey is here to assist. You can also send her an email with all your questions, and she'll get back to you promptly. We're committed to making your experience as smooth as possible, so don't hesitate to get in touch with any inquiries or concerns. We look forward to assisting you!
100h Yin YTTC | Need more info? Email me with any questions
Review
What students say about us
I had a great time with fantastic people. Nice accomodations and great daily breakfast. Very good teachers. I highly recommend Yoga Dunia.
Such an incredible experience – I could not be happier with my choice of Yoga Dunia for my YTT! Such a beautiful and peaceful atmosphere to study – I especially loved the breakfast buffet, and the tea/juice options throughout the day as well as the water refill station. All the women at Dunia, teachers and managers, are just spectacular people. Will be back for my YTT aerial soon!!
I just completed my 200hr Yin-Yang Yoga Teacher Training with Yoga Dunia and could not recommend the course more highly. I learned so much not only about teaching but also about my own practice, met so many amazing people including Yoga Dunia's Staff who run the course, and got to live on the beautiful island of Nusa Lembongan for a month. If you're thinking about signing up for teacher training do it, you won't regret it!
"Amazing and transformative"
A truly transformative training and amazing experience over the past month engaging with the Vinyasa and Yin Teacher Training course @YogaDunia. All the team has been great support, very welcoming, and amazing. The Shala is a great open space. If you are looking for a great Yoga teacher training course, I totally recommend Yoga Dunia! Planning my next trip already…
Yoga Dunia YTT 200 hours March 2019
I spent nearly 12 hours a day, 6 days a week for 3 weeks at this lovely shala.
The course was phenomenal and by the end of the course, I had transformed from being unsure of my abilities as a yogi to having the confidence to teach a full 1-hour class.
The room is open air with a fan; a small pool and a juice bar are attached.
The team including Audrey took good care of us and provided a delicious/nutritious breakfast every morning.
Ready to join us in Bali!
Feel free to contact us with any questions.
We will be glad to assist you. contact@yoga-dunia.com