Yoga Teacher Bali
Meet the Yoga Dunia's team
Claire
from Akira Yoga
Claire started practicing yoga 22 years ago. Prior experience in psychology and criminology, working with the National Probation Service for 8 yrs. She taught yoga in the evenings during this time. This teaching proceeded to a full-time yoga program manager role for the same company Coventry Adult Education Service, in England.
From the UK and has been in Indonesia for 7 years, now residing on the Nusa Lembongan island. Loves: reading, writing poetry, art, dancing, and her two local dogs.
Akira is a Sanskrit word and means' graceful strength'. This sums up both the Yin Yoga style and Claire's personal journey.
Claire holds over 3,000 hours of Teacher Training and 20 years of yoga teaching experience.
Claire is a Yoga Alliance RYT 500 yoga teacher qualified to lead teacher training and Akirayoga is a registered Yoga Alliance school.
Teacher trainers have included
Gillian Russel, British Wheel of Yoga.

Dr. Francoise Freeman, Birthlight.

Donna Farhi, Sacroiliac Stability.

Ana Forrest, Forrest Yoga.

Maggie Reagh, Yoga Therapy International.
⇓ Read More
Neil Pearson, Anatomy & Physiology for Musculoskeletal Conditions & Persistent Pain Specialist.

Jaisri M Lambert, Ayurvedic Practitioner & Consultant. Todd Caldecott, Ayurvedic Practitioner, & Medical Herbalist.

Tianne Allan, Restorative Yoga. Nicole Emily Marcia, Trauma & Addictions.

DV Sridhar, Radha Sridhar & Viji Vasu, Yoga Philosophy, Yogaraksanam, Chennai.

Paul Grilley, Functional Yoga & Skeletal differences.

Jo Phee & Joe Barnett, Yin Yoga.

Tom Myers, Anatomy Trains.

Dr. Vincent Chung, Chinese Medicine.

Jennifer Raye, Yin Yoga & Chinese Medicine.

Ariele Foster DPD, the Fascia System.

Rachel Ellery Yoga Anatomy.
Pilu
from Salty Water Yoga
As a Yoga Alliance Experienced Registered Yoga Teacher (Registered Yoga Teacher 500 hours), Pilu has 900 hours of teacher training and over 5 years of teaching experience in yoga.
Initially completed her Ashtanga 200 hours with Ashtanga at Sachidananda School in Mysore, India in 2017. Later, she completed a further 200 hours of Vinyasa Yoga Education with the well-recognized Briohny Smith. Pilu went on to complete Aerial Yoga Teacher Training in 2017, with Mandalablue Yoga, Gili Air, Indonesia, and later became one of the mentors for the founder of the Fly High Yoga Teacher Trainings, Jose Luis Jimenez, assisting with his training programs and continues to assist with these training. She completed her Essential Yoga Anatomy with Jason Crandell and Paul B. Rosache in 2018 and completed further yoga training with Yin Yoga Teacher Training in Indonesia with Serenity Yoga Student training with Caroline Linelayzell in 2019.
She immerses herself in 300 hours with Deepa Ji from Rishikesh and many teachers from all over the world bringing together the traditional and contemporary aspects of a yoga practice. She is an eternal student, an active and adventurous person, living in 7 different countries, most of the time in small places close to the ocean. She has a strong background in Ashtanga Vinyasa, and aerial disciplines like aerial silk, and trapeze, bringing creative vinyasa into these styles.
Pilu loves surfing, she is also a Free dive Instructor, enjoying the ocean, which helps her to have a better understanding of breathing for the pranayama practice.
Delphine
from Delphine B Yoga
Yoga Teacher RYT-555hrs & WYS-200hrs
Delphine Berclaz was born in a small village in Switzerland where Yoga almost didn't exist at that moment. She started her yoga journey in Geneva more than 10 years ago. At that time, she was not sporty at all, neither flexible nor strong. Soon, she began to practice every day.
In 2017 Delphine moved to Singapore where she lived for 5 years. In 2019, she did her 200hrs certification in Hatha and Ashtanga with Master Sree at Tirisula Yoga without having in mind to become a Yoga teacher. Yet, surprisingly, the Yoga call was the strongest: within 24 hours, she quit her marketing career, changing the activity of her own business to become a full-time freelance yoga teacher. It was time to share with others all that Yoga had given her in his life, sticking to the idea: yoga is for everybody and every body.
From then on, she worked in several studios in Singapore and also taught private and corporate classes in person and online. At the same time, she kept Ashtanga as her self-practice and participated in Kino MacGregor's workshop in 2020.
Then, she decided to deepen her knowledge in Yoga and obtained her 500hrs certification in Ashtanga & Multi-Styles Yoga in 2021 with Ulu Yoga.
At the end of that same year, she moved to Bali. She taught regular classes and workshops in several shalas in Canggu and Lembongan and a special class for 150 people at the X-Fest festival in Nusa Dua. She also practiced Ashtanga Mysore with Iain Grysak in Ubud.
She was an evaluator for the practical exams of the 300hrs certification and obtained several certifications besides Yoga such as Usui Reiki Master, Singing Bowls, and Traditional Balinese Massage.
In 2023, she obtained her certification in Yin yoga and Traditional Chinese Medicine at Yoga Dunia. She also participated in Paramaguru Sharath Jois Workshop in Ashtanga Mysore in Ubud.
Apart from Yoga, Delphine likes to travel, and discover other cultures, languages ​​and foods. She is also passionate about the arts whether it is music, painting, dance or theatre.
Rachel
from The Anatomy Yoga Academy
UK-trained Osteopath, New Zealand-trained pilates rehab instructor & internationally recognized anatomy teacher Rachel Ellery, specializes in sharing her knowledge of human anatomy and movement principles with yoga students, yoga teachers, and body workers from around the world.
Her mantra "educating and moving the world one body at a time" stems from over 26 years of hands-on experience and 17 years of teaching functional anatomy, bodywork techniques, and movement. Her passion to heal others through touch and movement began while practicing sports therapy in the UK and Caribbean. Rachel naturally progressed into further education at the British School of Osteopathy graduating in 2000. Rachel has also continued training in Cranio-sacral Osteopathy, Garuda mat, dry needling, pediatrics, and shown interest in Eastern medicine healing modalities Wuo Tai, Zen Thai Shiatsu, Thai Vedic Yoga, and the Thai Massage Circus.
Since then, Rachel has practiced holistic osteopathy in NZ and is now based in Bali, the healing capital of Asia, she travels within Bali and to yoga schools across the globe to educate yoga students on the importance of human and functional anatomy encouraging them to develop their alignment, self-awareness, teaching skills and to educate others in the wonders of the body.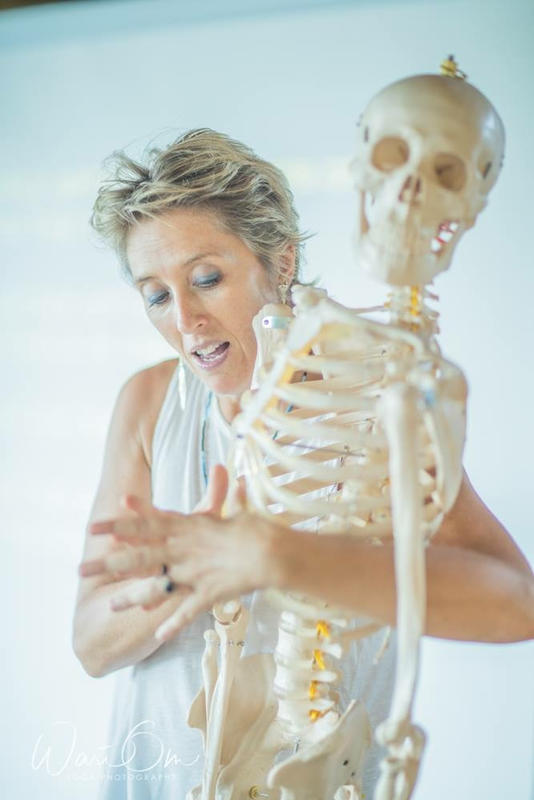 Audrey
Our manager
Audrey's journey originally started in France but her heart has now truly become Balinese. She arrived on the island of god in 2014 and little did she know that unexpected encounter would soon change her life.
After working 10 years in the hospitality business back home, she took a lead of faith, packed up, and ran towards new adventures with her partner to a new land full of surprises. They arrived in the small village of Tulamben, on Bali's East coast, a quiet little gem celebrated worldwide for its magical dive sites.
Entered Tomomi Becot whom she met only a few weeks after arriving and who became her friend and Teacher. Together, they practiced and studied Yoga for a year allowing Audrey to discover more than just a newfound passion but a new path. Following her desire to take her practice to the next step and has not left this magnificent country that is Indonesia ever since.
Audrey later joined Yoga Dunia's team to improve her teaching skills around Bali, where she can ally her two passions, Yoga and management. Then she joined the Fly High family for new training and realized how knowledge of human anatomy and movement is so important for practicing yoga safely. Autodidact, she starts to read, watch videos, join the community to study, and learn more about it by herself.
When Audrey is not at work, you can find her wandering around Nusa Lembongan Island and taking pictures or enjoying her cozy home and cooking for loved ones.
Join us
Yoga Teacher Training in Bali
7 days of Practice, 2 classes a day
Structural and Muscular anatomy of Yin, Yin Poses and variations, Meridian system and Myofascial Release. Understanding the fascia, and the connective tissue. Tension and Compression.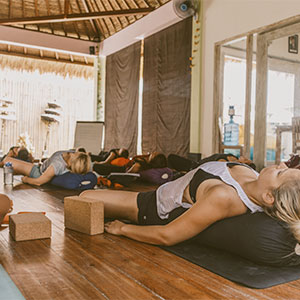 12 days of Practice, 2 classes a day
Our 100-hour Yoga teacher training offers a complete package of all the Yin yoga training and Traditional Chinese Medicine course essentials to both personalize your own practice and give those of you, that are already teachers, the skills and additional certification to teach Yin yoga class.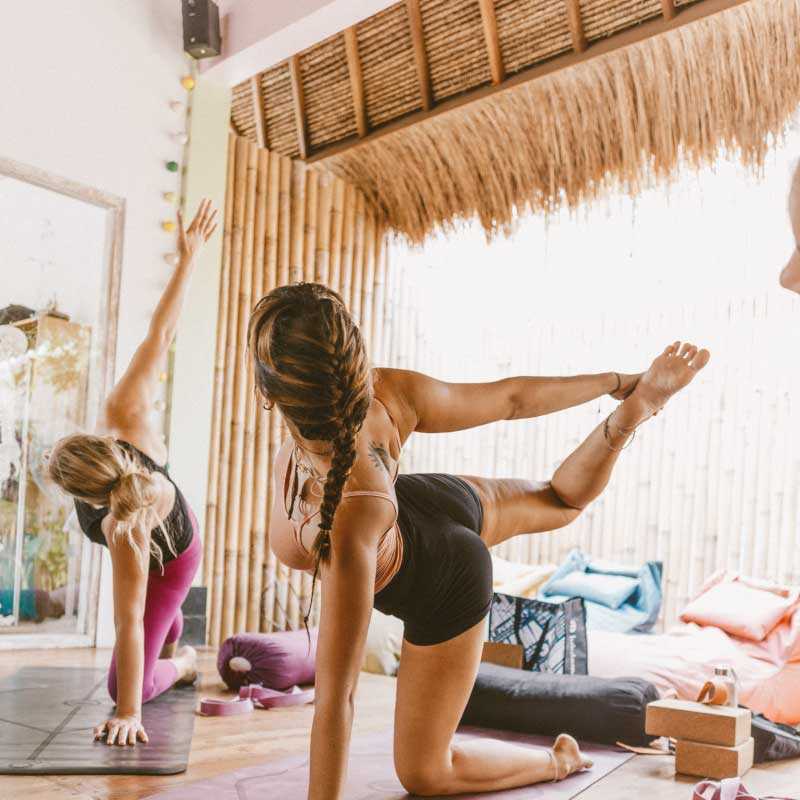 24 Days of Practice with 2 full-day off
Yoga Philosophy, Pranayama, and Meditation, Teaching skills, Anatomy, and Physiology for both Yang and Yin Practice. Equally Balanced course 50/50.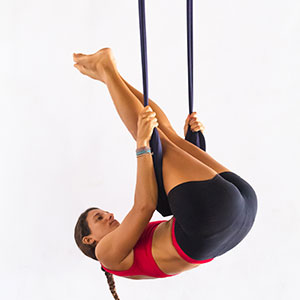 7 Days of training in Aerial Yoga
Our 50hr Aerial Yoga Teacher Training provides future teachers with everything they need to know about sequencing, teaching methodology, acro play, and more! You will learn all about Airo values and philosophy so that they too may spread the Airo love and style.