55 Hour Yin Yoga Teacher Training Bali, Meridians & Myofascial Release
A certified Yoga Alliance teacher training in Bali
About our
Yin Yoga Training Course
What is Yin Yoga – Actually Yin yoga is a modern yoga that targets the deeper and connective tissue, but not only. Energetically, this practice of yoga improves our energy flow through our organs, helping tension and stuck emotions release and reduces stress and anxiety.
Our Yin yoga training in Bali is meant to show you the way to use the key principles of Yin yoga, Myofascia Release, and Acuyin techniques to yourself first.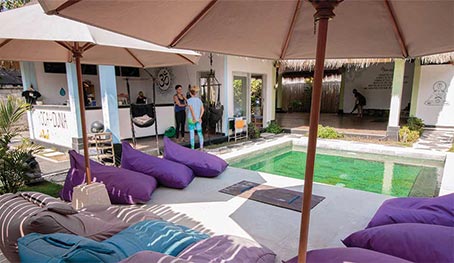 Learn Yin Yoga in Bali, Nusa Lembongan
— Next Session May 10th to 16th, 2023 —
7 days Yin Yoga Training Course
Nusa Lembongan, Bali
From
684 $
~ 10.495.000 IDR
The daily lectures will contribute to the understanding of the Yin yoga theoretical key concepts; what is Yin Yoga, and how to practice and teach it, which will provide the space for you to incorporate these concepts into your daily Yin yoga practices.
This yoga course has been designed around the 5 elements and the Chinese meridians. You will learn how it's connected to our whole body, organs, mind, and emotions and how it affects your daily life. This is more than just another Yin course in Bali, it's a healing process.
Testimonial
What students say about our 55h Yin Course in Bali
Tuition Fee
Room options & Availabilities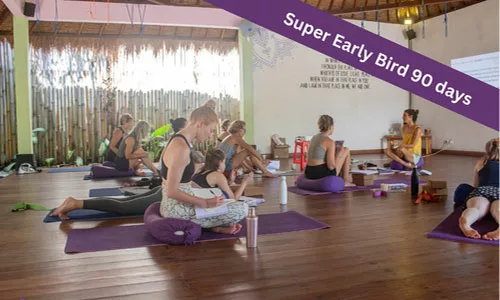 Training only
55h of training
& Buffet breakfast
Dates & Availability
May 10 to 16, 2023 | 8 spots left
December 10 to 16, 2023 | 16 spots left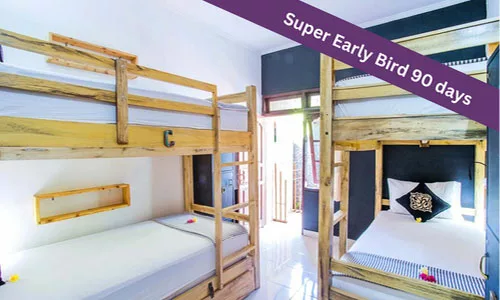 Dormitory
Shared room with 4 beds
& en-suite bathroom
Dates & Availability
May 10 to 16, 2023 | 4 spots left
December 10 to 16, 2023 | 4 spots left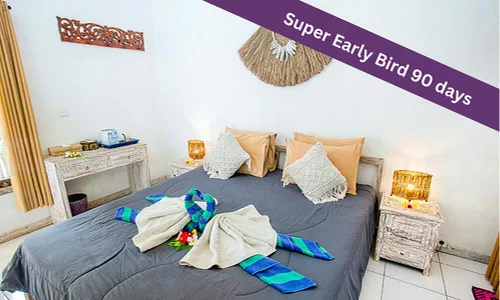 Private Room
Double bedroom
& en-suite room
Dates & Availability
May 10 to 16, 2023 | 2 spots left
December 10 to 16, 2023 | 5 spots left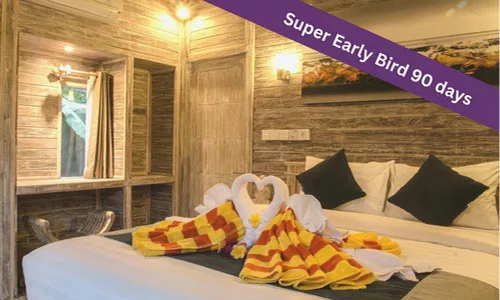 Private Bungalow
Double bed bungalow
& en-suite bathroom
Dates & Availability
May 10 to 16, 2023 | Sold Out
December 10 to 16, 2023 | 5 spots left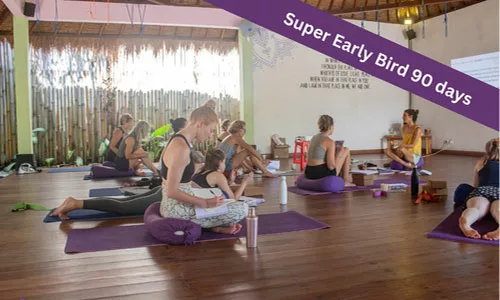 Training Only
55h of Training Course
& Buffet breakfast
$ 850
$ 684
Dates & Availability
May 10 to 16, 2023 | 8 spots left
December 10 to 16, 2023 | 16 spots left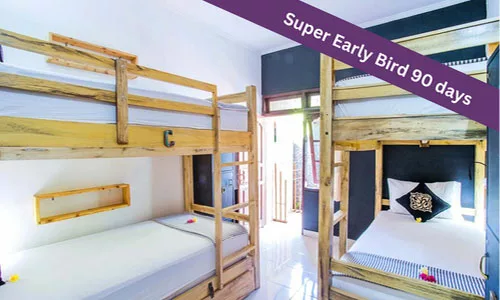 Dormitory
Shared room with 4 beds
& en-suite bathroom
$ 925
$ 754
Dates & Availability
May 10 to 16, 2023 | 4 spots left
December 10 to 16, 2023 | 3 spots left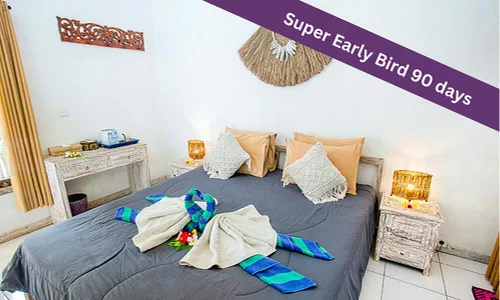 Private Room
Double bedroom
& en-suite bathroom
$ 988
$ 817
Dates & Availability
May 10 to 16, 2023 | 2 spots left
December 10 to 16, 2023 | 5 spots left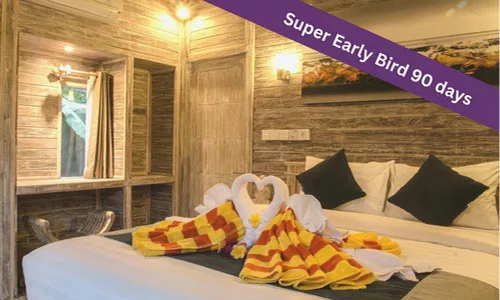 Bungalow
Double bed bungalow
& en-suite bathroom
$ 1.037
$ 866
Dates & Availability
May 10 to 16, 2023 | Sold Out
December 10 to 16, 2023 | 5 spots left
Yoga Teacher Training Fee
What is included in the price?
The cost of the Yin yoga teacher training course includes the following:
55 hours of Yin Yoga course
Breakfast on every training day
Course manual printed book
12 months access to the E-Learning Yin portal
Welcome pack to prepare yourself for the training

All props required for practice

Refill water all day, teas, coffee

Accommodation for 7 nights

Yoga Alliance certificate of completion
What's not included in the price?
Lunch and dinner, the average cost per day is 300.000 IDR

Fly ticket and transfer to the island

Visa Fee, Travel insurance

Personal expenses
Option available for additional cost:
Boat ticket from $ 25 USD
Airport pick Up $ 25 USD
What you will learn
Course Syllabus
Yin yoga teacher training course includes
All the fundamentals of  Yin Yoga, an overview of Chinese Medicine, Myofascial massage, Myoyin, and Acuyin in 7 days.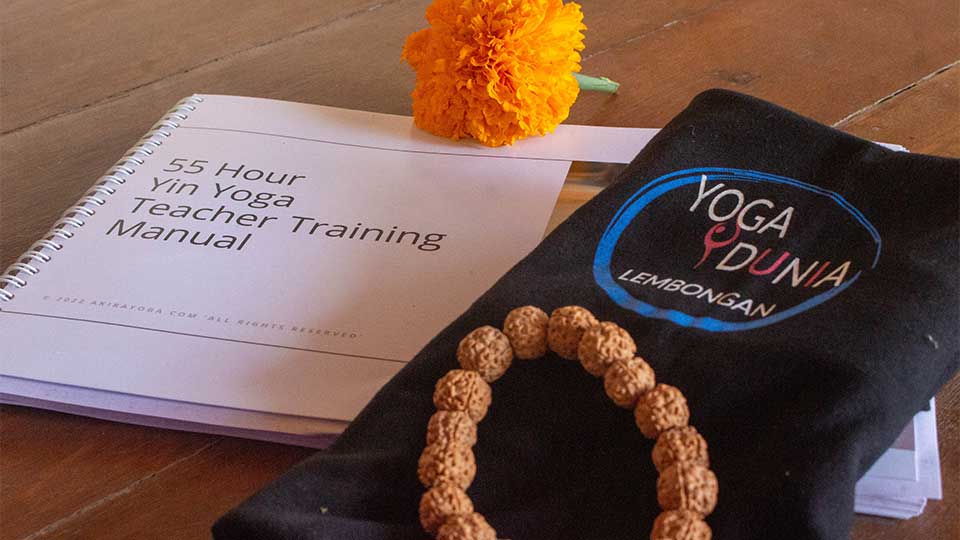 Yin Yoga Practice - Daily Practice
Daily practice, the morning class focus on Yin yoga including Pranayama and Meditation
The evening practice will introduce you to Meridian Fascia Yin yoga and learn how to manipulate the connective tissue using Myofascia massage, Myoyin, Acuyin, and Tapping techniques.
Developing a mindful Yin yoga practice
The sensory and energetic experience of movement
Practical Training & Techniques
What is Yin Yoga: mindful Yin practice principles, the differences between Yin/Yang and Yin/Restorative Yoga.
Yin yoga asana study: what are and why use Yin Yoga asana Archetypes? The Yin asana, variations, and counter indication.  The asana's Archetype's physical, energetic and elemental target area.
Understand the Yin yoga benefits, physically, emotionally, and energetically.
Anatomy & Body Structure Study
Functional yoga anatomy, Skeletal movements, and bone segments
The main muscle groups of Yin yoga
Skeletal differences comparison labs and how we apply this to the Yin yoga archetypes.
Fascia Anatomy, what is a fascia? Structure of the fascia, the connective tissue system. The fascia matrix and holding patterns
Myofascia self-massage, Acuyin Meridian and Myoyin Theory.
Physiology & Traditional Chinese Medicine
The Qi and energetic connectivity. The Zangfu organs: Anatomic function and attributes of the Zangfu organs. Physical and emotional symptoms of disharmony.
The Meridian system and primary functional roles. The locations of all 12 main meridians – Lung, Large Intestine, Kidney, Bladder, Liver, Gallbladder, Heart, Pericardium, Triple Burner, Small Intestine, Spleen, & Stomach.
The meridian flow cycle of Qi within the body. 
The Meridians and emotions. The Meridian clock and lifestyle.
History & Yoga Philosophy
The concept of Qi and the Yin Yang theory overview.
The 5 elements theory overview.
The inter-relationship of the Meridian system, Zangfu organs.
How Yin yoga works with the 5 elements and the meridians.
Teaching Methodology
Theming with meaning in Yin yoga. The energetic curve of a balanced class. Intelligent anatomical sequenced lesson planning. The art of Yin yoga transitions. Considering timings and rebounds. Lesson plan examples.
Developing a reflective practice to help you grow as a teacher.
Meditation & Pranayama
Daily progressive Pranayama and Meditation practice to establish a valuable and powerful tool to deepen your spiritual understanding & to feel confident incorporating these techniques into both your personal practice and your teaching.
COURSE STRUCTURE
This course has been designed to introduce you to the Yin yoga world, this course is just the beginning and is an overview of what Yin Yoga is. This training is suitable for anyone who wants to learn about the Yin yoga style and its different aspects and benefits. For those who are already 200RYT Yoga Teachers, this 55 h could be added to your training credit as continuing education. Yoga Alliance accredits this Yoga training. 
The course starts at 14h (2 pm) with the welcome circle to meet each other followed by your first Yin yoga class.
Every following day starts at 7h (7 am) and finishes at 17h15 (5.15 pm) with a 45 min breakfast break, 1,5 hour Lunch break, and a few short breaks in between the lectures.
The training finishes on the last day with the Ending ceremony and the celebrating dinner (not included in the fee)
Ready to register?!
Are you passionate about yoga and interested in deepening your practice and sharing it with others? Our Yoga Teacher Training program is the perfect opportunity for you to learn and grow as both a student and teacher of yoga.
Whether you're looking to teach full-time or simply want to deepen your personal practice, our Yoga Teacher Training program will provide you with the skills and confidence to achieve your goals. Join us and take the first step towards a fulfilling and rewarding career in yoga.
Need more information? Email me with any questions
Why Choose US
What makes this Yin course different from most others
The focus will be on guidance and nurturing that allows you to open into your authentic personal experience, enrich your senses, teach you to listen, and respond appropriately and return you to a more balanced nature.
Yoga Dunia Lembongan offers you affordable Yin Yoga Training during our Yoga holiday in Bali which offers magical learning journeys.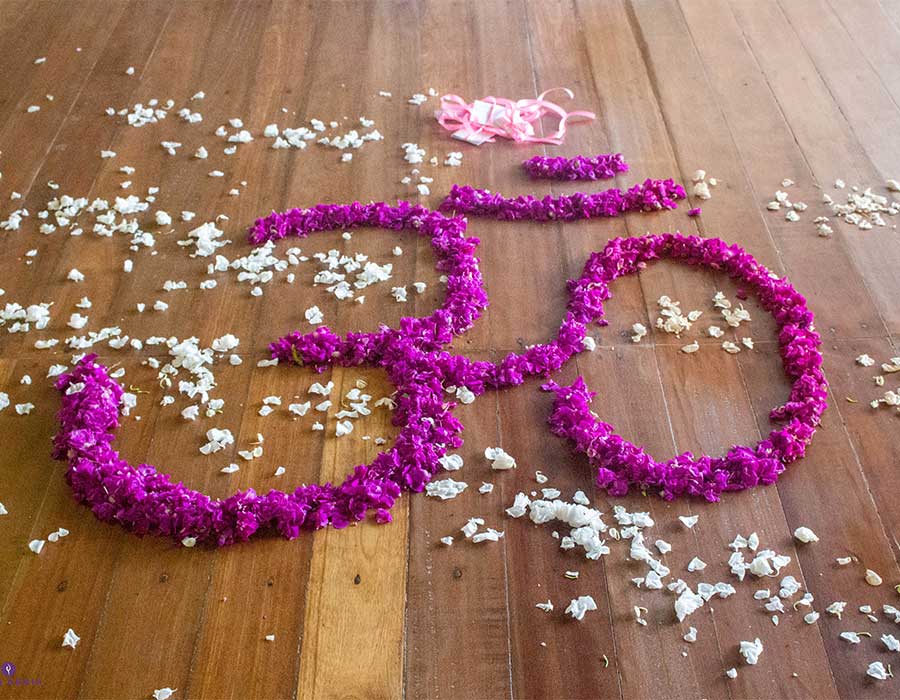 The Location
Yoga Dunia is located on the magical island of Nusa Lembongan, surrounded by a white sandy beach, and pristine clear blue water, away from crowded Bali city, and just a short 30-minute boat ride from beautiful Bali.
The studio itself is located 3 min from the beach and 5 min from restaurants and convenience stores, the perfect place to dive deeper into your Yin Yoga and learn how to teach Yin Yoga!!
Course Structure
This 7-day Yin Yoga Bali Teacher Training Course during your yoga holiday in Bali offers a deep transformative week of reflective learning.
By combining and applying the principles of body movement, mental techniques, emotional awareness, and Chinese Medicine to your daily personal practice of Yin Yoga, Myofascia release, and Acuyin you will feel confident to bring these skills to your teaching and share it with your students.
Lead Trainers
Our teachers' trainers are truly experienced professionals yogis. They are all living here in Nusa Lembongan, Bali, and are a part of the community.
Our yoga teachers are all E-RYT 500. Our Lead Yin Teacher for this course, Claire from AkiraYoga, is a YinGeek, a passionate practitioner of different yoga styles, and a strong learner, she dedicated her life to sharing her knowledge with others.  
YOGA ALLIANCE ACCREDITED
Like all of our Yoga Teacher Training, this course is accredited by Yoga Alliance and allows our graduates' students to receive the ability to register those hours as continuing education under the yoga schools AkiraYoga. 
.
16 Students Maximum
In our Yoga Teacher Training Bali course, we are keeping a human-size group, to provide high-quality studying, intimate and personalized attention from our Instructors. A good condition to prepare for your yoga teacher training certification.

All year open yoga studio
A real Legal Yoga Studio, well established since 2017, not just a hosting resort.
We are genuinely like a family, guiding you in your yoga journey.
Anytime you can join the drop-in class to meet our Teachers. We also offer 100/200 hour Yoga Course.
The Yoga Dunia Team
Meet your Teachers & Host
Our teachers are truly experienced in teaching yoga and running Yoga Teacher Training in Bali. They are all living here in Bali and are a part of the community. Our yoga teachers are all E-RYT 500. Your host, Audrey, is living here in Bali for 8 years and she's here to assist you.
Your Yin Teacher Claire from Akira Yoga | Full Bio Here
Food & Drink
Breakfast, Lunch & Dinner
Breakfast on training day*
Yoga Dunia's staff will prepare a buffet breakfast of fresh fruit juice, tea, coffee, yogurt, granola, oatmeal, topics, eggs, bread, and fruit slices.
Lunch & Dinner**
Nearby the studio you will find many restaurants serving local and western food. Our favorite places are Soka Warung, Cinta Café, The lounge Bar, and Sanghyang Restaurant.
* Included in tuition fee       ** Not included in tuition fee
Ready to join us
Feel free to reach Audrey at contact@yoga-dunia.com with any questions she will be glad to assist you