55 Hour Yin Yoga Teacher Training Bali and Chinese meridians – Yin yoga adalah
The Yin yoga teacher training is designed to teach you how to apply the principles of Yin yoga Bali to yourself first, support you in understanding the experience using key theoretical and philosophical concepts and then equip you to offer these qualities to others
This 

Yin Yoga Bali Teacher Training Course during yoga holiday Bali 

offers a deeply transformative healing journey, by providing the theoretical tools for understanding the process and practical experiences in a safe and supportive space that will promote healing and re-balancing 

at Yoga Dunia, Nusa Lembongan, Indonesia.

Minutes from the beach in a peaceful location, this is the perfect location to dive deeper into your Yin Yoga.
Learn how to Teach Yin Yoga!!

The focus will be one of guidance and nurturing that allows you to open into your true personal experience, enrich your senses, teach you to listen and respond appropriately and return you to a more balanced nature. At Yoga Dunia, you can also get affordable Yin Yoga Training during Yoga holiday Bali, just minutes from the beach in Bali we offer magical learning journeys.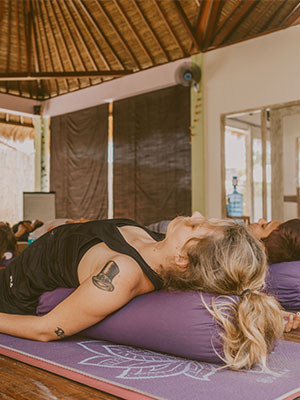 Functional yoga to suit your skeletal structure.
Applying principles and structure to benefit your own and client alignments, use of modifications that can help with problems such as the back, hip, pelvis, shoulder, all kinds of joint, muscle, and connective tissue complaints. Structural and muscular anatomy of Yin yoga, Tension, and compression theory.

Basics of traditional Chinese medicine (meridians and elements). The Meridians and chi, causes and symptoms of imbalance. 

The asanas of Yin yoga poses and variations. Asana and teaching labs breaking down postures to understand the dynamics of each pose in both an anatomical and functional way.
Lesson planning, Sequencing, and counter-poses Creating a sequence according to your or other's needs, learning one's own unique anatomical structure and principles for approaching each and every pose (learning adjustments, variations for each body type)

How to practice Yin Yoga, understanding the stages of the practice.
How to open up and practice surrendering, learning to listen and be receptive to your body, and mindfulness meditation.
Restorative yoga for deep relaxation and restoration.

Understanding the fascia, the connective tissue.
Balance the energy flow with fascia rolling. Learning how to balance the energy flow in specific meridians to shift the health of specific organs and transform areas in your emotional, mental, or practical- physical life using fascia rolling techniques

Daily Meditation, Pranayama and hand mudras to compliment a Yin practice.
Each day we will teach you something different exploring a range of meditation, pranayama and hand mudras that will compliment your Yin yoga practice.
Double Daily Asana practice so you get to experience all yin yoga asana.
Upcoming Dates – Yoga Holiday Bali
March 1st to 7th, 2021
EARLY BIRD ends December 1st
April 5th to 11th, 2021
EARLY BIRD ends January 5th
July 5th to 11th, 2021
EARLY BIRD ends April 5th
October 4th to 10th, 2021
EARLY BIRD ends July 4th
Tuition $ 950 Usd
Early bird offer $ 850 Usd ends 3 prior to the training starts
Room from $ 60 Usd
Certification:
All students who successfully complete the Yin Yoga Teacher Training Bali course will be awarded a certificate of completion
YogaAlliance:
For teachers registered with Yoga Alliance the course hours upon completion can be used for credit toward continued education.
You can find the Yoga Alliance Continuing Education provider here and also  the other program Yin Yang Teacher Training, Yin Yoga Retreat Bali and other Yoga Teacher Training by Yoga Dunia.
YOGA HOLIDAY BALI – DAILY SCHEDULE:
On the day of arrival, your welcome talk is at 3 pm followed by a two hour Yin yoga and Restorative practice to settle you into the week ahead. On the last day we have a two hour morning pranayama, meditation, and asana practice, then a beautiful breakfast together.
6:30 – 9:30 am  Meditation, Tea Break, Yin/Yang morning asana & pranayama practice
09:30 – 10:30 Healthy buffet-style breakfast
10:30 – 12:30 Theory, exercises, lectures
12:30 – Lunch and afternoon break
14:00 – 16:00 Afternoon lectures, teaching lab
16:00 – 18:30 Yin practice and yoga Nidra
Claire Green
Yin Lead Teacher
Based in Bali, Claire offers 200 hour Yin Yang Yoga teacher training, 55 and 100 hour Yin Yoga accredited courses as well Yin Yoga Retreat Bali. She enjoys sharing her passion for yoga and has a wealth of experience and training including 500 hours Teaching Yoga Diploma with the  British Wheel of Yoga (BWY),  a certificate with Birthlight Pregnancy Yoga, completing the  Forrest Yoga Advanced Yoga training, and a further 570 hours Yin Yoga and Yoga Therapy with Maggie Reagh and Indian teachers D.V. Sridhar, Viji Vasu, and Radha Sridhar at Yoga Raksanam and 200 hours Yin Yoga teacher training with Jo Phee & Joe Barnett.  She previously delivered the British Wheel of Yoga Foundation training and is a Yoga Alliance Experienced Registered Yoga Teacher (E-RYT 500) and holding a Yoga Alliance Registered School.
Fill the registration form here
still have a question contact us