Syllabus
For our future Teacher Yoga Training Bali
About the course
200hr Yin & Vinyasa Teacher Yoga Training & Traditional Chinese medicine course
24 days, 200hr Yoga Teacher Training in Bali including 2 days and a half Day off. This Vinyasa, Yin, and Traditional Chinese Medicine course covers the following topics which are required by Yoga Alliance. Join the Yoga community and become a Certified Yoga Teacher.
Topics cover:
Techniques, Training, Practice

Asana
Pranayama and Subtle body
Meditation

Anatomy, Physiology, and Biomechanics
Yoga Humanities

Yoga History
Yoga Philosophy
Yoga Ethics

Professional Essential

Teaching Methodology
Professional Development
Practicum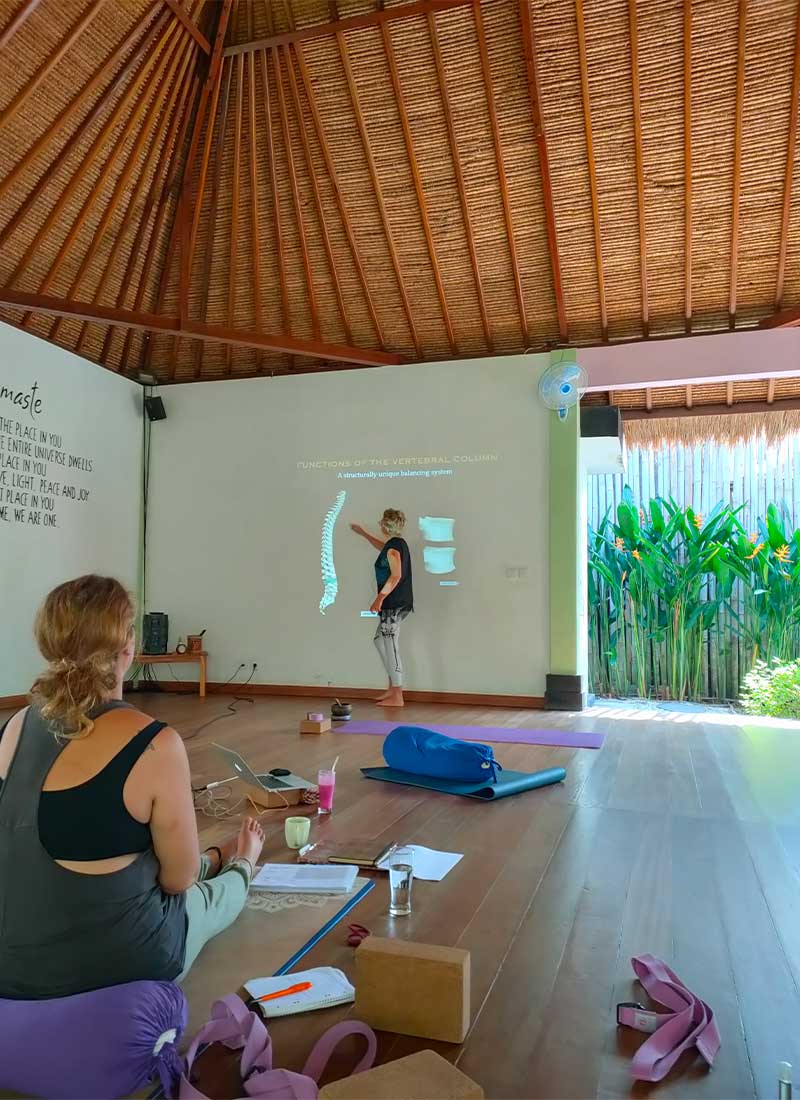 Yoga Anatomy part 1
20hr Online Yoga Anatomy Course with The Anatomy School by Rachel Ellery
Discovering the anatomical magic that's beneath our skin, Rachel Ellery will guide you step by step through 10 chapters of yoga anatomy. This engaging, empowering, fun, and interactive course with great visual pictures will support you in gaining 20 hours of Online Education required by the new Yoga Alliance Standards (February 2020).
What you will learn?
Structure governs function

Intro to the systems of the body

The breath

Core cylinder – diaphragm & pelvic floor

Navigating through the body and understanding the movement of the body

Osteology – the study of bones

Arthrology – the study of joints Myology –

The study of muscles Myofascial lines
The online Anatomy course has to be achieved before the in-person training.
Vinyasa Yoga Anatomy
Integration of the theoretical anatomy principles to the practice of vinyasa asana, including the movement of the body within the yang practice, how to safely make transitions within your creative sequences, and the bio movements of the body.
Yin Yoga Anatomy
Functional yoga anatomy, general skeletal differences, how to incorporate this knowledge, and the use of variations into your practice and teaching. Exploration of the fascia system, connective tissue, tension and compression theory, Myoyin and Acuyin techniques.
Vinyasa yoga course Part 2
What you will learn
Techniques, Training, and Practice
Daily practice of Vinyasa class including Pranayama and Meditation

Practice and learn the key poses in each category of asana (standing poses, forward bends, backbends, lateral, twists, and inversions). The modifications, and variations we can use for both beginners and advanced practitioners. How to practice with mindful awareness according to your own body and student needs.

Begin to develop a relationship with both the form and the functionality of these different categories.

Learn how to work with contradictions and the use of modifications within your teaching to ensure a safe and effective practice for your students and common health issues.

Explore a range of bandhas, chanting, and mantra that complement a Yang practice.
Yoga Philosophy and History
The Yoga Sutras of Patanjali and the 8 Limbs of yoga

Bhagavad Gita and overview of the Yoga history

How to incorporate key elements of philosophy and specific themes into your teaching and daily life.
Anatomy & Physiology
Study of the subtle body including the Chakra system, Nadis, and Koshas

Learning how to balance the energy flow in specific chakras to transform areas in your emotional, mental, or practical-physical life.

Exploration of each asana family and the other yogic tools in a systematic structured way including meditation, pranayama, bandhas, mudra, chanting, etc., that complement this style of yoga, and how to incorporate these into your classes.

Practical anatomy relevant to a dynamic Yang asana practice.
The biomechanics of the body, understanding movement and the effects on our body.
Common misalignment issues and how to create a safe and accessible practice for your students.
Teaching Methodology
You will receive guided practices of the techniques themselves, practice the techniques, receive analytical training in how to teach, and have the opportunity to teach others.

Principles of demonstration, observation, assisting and correcting.

Learn how to safely adjust with confidence and professionalism

You will gain both an understanding and practice in how to sequence a vinyasa class that cultivates creativity, independence, and authenticity and allows you to grow as a teacher so you feel fully confident to teach your students in the practice of Vinyasa yoga for both in-person and online.
Understanding warm-up sequences, peak postures, and how to incorporate counter-poses.
How to prepare effective Lesson planning and Sequencing for both beginners and advanced students.
Creating a Yang style sequence according to your or other's needs, learning one's own unique anatomical structure and principles for approaching each and every pose (learning adjustments, variations for each body type)
You will learn how to theme your, in-person and online, classes to both inform and inspire according to yoga philosophy and how to plan for progressive routes for your students.
Pranayama & Meditation
Daily practice of Pranayama and Meditation
Study different Pranayama and Meditation techniques that you will incorporate into your practice to establish a valuable and powerful tool to deepen your spiritual understanding and to feel confident incorporating these techniques into your teaching.
All techniques are included in your manuals to encourage ongoing practice.
Practicum
Student paired teaching to try out your learning

Group Vinyasa Teaching practical's to build your confidence in teaching Yang-style yoga and complimentary Meditation and Pranayama practices.
From the 3rd day, we start practicing simple teaching to help build your confidence to stand in front of a class.
The main focus is to help you discover the yoga teacher within you. Either to use toward others or for your own practice
Pilu will guide you through your yoga path
How to apply yoga in your daily life, not only on the mat.
Develop compassion towards yourself, empathy with who you are
A lot of teaching practice, experience real classes situation with real students.
Yin Yoga Course Part 3
What you will learn
Techniques, Training, and Practice
What is Yin yoga and how does it differ from more active/Yang styles.

The physical, emotional, mental, and energetic benefits of Yin Yoga.

The Yin yoga practice principles.

Daily morning and evening 90-minute Yin yoga classes, experience different asana and complementary techniques within each class. Including Yinyasa, Myoyin, Acuyin, and Yin with restorative yoga, and Yoga Nidra.

Analysis of the target areas for each Yin yoga pose and how to use functional yoga principles.

Anatomical breakdown of each Yin yoga asana, variation, and the use of props

Modifications to suit common health conditions.

How to manipulate the connective tissue using Myofascial techniques and integration of these within a Yin yoga class, known as Myoyin and Acuyin.

How to integrate Yin yoga philosophy and physiology themes within the physical practices.

Understand the sensory experience of movement and mindful Yin Yoga.

Practice pranayama and meditation techniques that complement the Yin yoga style.
Yin Yoga Philosophy
The fundamentals of Taoism principles.

An introduction to TCM, Zang Fu organs and Meridian theories and their interconnectivity.

Yin Yang theory

The 5 Element Theory.

The 5 Spirits in TCM.

Lifestyle and ethical considerations for Yoga teachers

Learn a broad range of philosophy themes to inspire your students and teaching.
Anatomy & Physiology
The 3 Treasures, and 4 Vital Substances.
Anatomic analysis of the Zangfu organs, functionality, emotional attributes, and disharmonies.

How the Zangfu organs function together as an interconnected system.

How the Zangfu organs have connections with our organ senses, nails, and skin and common signs of imbalance.

The Zangfu organs connectivity with the 5 Element theory, Meridian theory, and Yin Yang theory.

What is Chi, the Meridian System, and the Meridians' 3 Primary roles.

The locations of all 14 main meridians – Lung, Large Intestine, Kidney, Bladder, Liver, Gallbladder, Heart, Pericardium, Triple Burner, SmallIntestine, Spleen, Stomach, Ren, and Du

The Meridians' relationship with the Zangfu organs.

The flow cycle of Qi within the body.

The Meridians and emotions.

The Meridian Clock and lifestyle.

Understanding fascia, the connective tissue system.

The fascia system and connections with the nervous system/brain.

Myoyin and Acupuncture Meridian Theory.

Tension and compression theory.

Anatomy of Yin yoga – skeletal variation (hips, spine, shoulder)

Class body analysis lab (hips, spine, shoulder), learning one's unique anatomical structure.
Teaching Methodology
The Lesson Plan Curve for effective teaching.

Considerations for intelligent anatomical sequenced lesson planning.

Planning an energetically balanced Yin yoga class.

The art of Yin yoga transitions.

Considering timings, rebounds, quotes, and stories.

Creating a balance of healthy boundaries and a nurturing connection with students.

Understand different learning styles, the qualities of a teacher and the student learning process.

Develop an introspective practice to help you grow as a teacher.
Understanding shadow mirroring and what we can learn from our students to promote our own growth.
Essential skills, voice, tone, observational skills, and use of safe touch, to skillfully interact with students and create a safe space for healing potentiality.
The business side of teaching yoga (including marketing, online, insurance, and legal).
Learn how to incorporate themes into your practice and teaching, with examples.
Understand how to implement Yang, Restorative style yoga practices, Myofascia release, Acuyin, Pranayama & Meditation within a Yin class effectively to evoke creativity.
Pranayama & Meditation
Daily practice of Pranayama and Meditation
Understand how to influence and direct the prana (life force) to support and deepen your physical and meditation practice.
Learn how to move more deeply into the subtle realms of the Self.
All techniques are included in your manuals to encourage ongoing practice.
Practicum
Preparatory paired teaching labs in teaching Yin yoga.

Teaching Yin yoga experience to a small group to build confidence.

Teaching complimentary meditation and pranayama with the Yin yoga practice

Yin yoga practicums observations and constructive feedback.

Supportive, safe, and inclusive learning environment to allow you to grow into your own Yin yoga teaching style.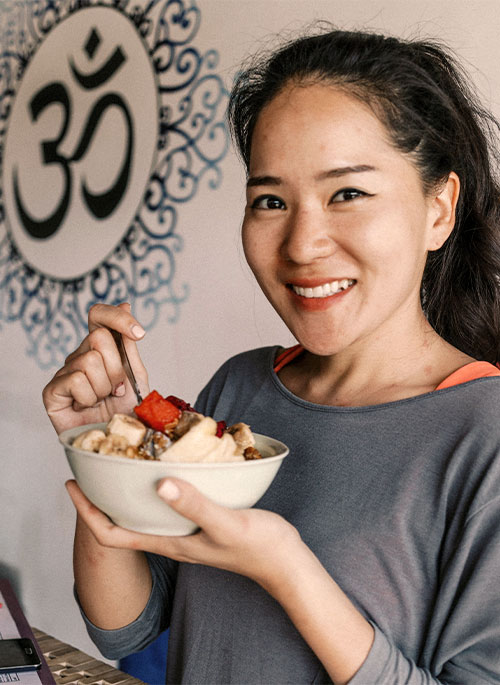 Yoga Teacher Training
Daily Schedule Vinyasa & Yin part
The first day of the Yoga Teacher Training starts at 2 pm (14.00) with the welcome circle to meet and get to know each other better. The welcome circle is followed by your first practice. 
Typical daily yoga course schedule
7.00 to 8.30 – Yoga, Meditation & Pranayama practice

8.30 to 9.30 – Breakfast break

9.30 to 12.00/12.30 – Lecture

12.00/12.30 to 14.00 – Lunch Break

14.00 to 16.30 – Lecture, Workshop

16.30 to 17.30/18.00 – Yoga, Meditation & Pranayama practice
Days are between 7 to 8 hours long
*The schedule is subject to change in accordance with the need of the Yoga training course.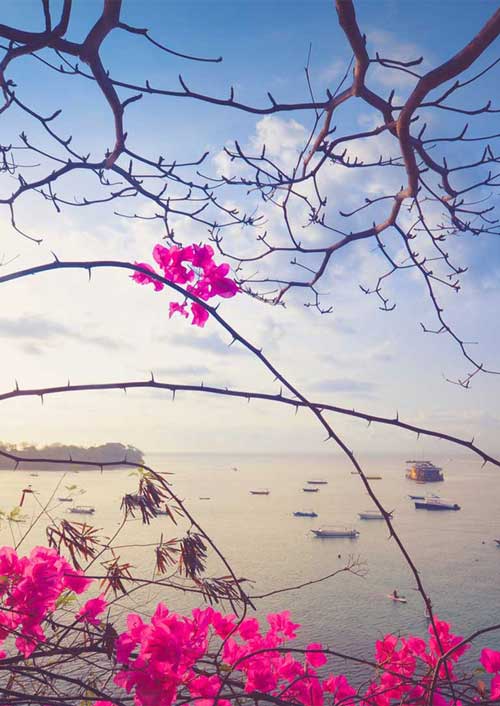 Where to stay
Accommodation
Book your own accommodation:
We recommend choosing a hotel or guesthouse within walking distance from the studio so you can come and go quickly during break time.
The studio is located on Tamarind Street, please see the location on Google Maps
Hotel booked with Yoga Dunia:
If you choose to book your accommodation with us, thank you!
Please find below the hotels' options, their location, and their description. We have selected three options from dormitories to bungalows.
Choose the option which suits you and add it to your booking
Dormitory
The Dormitory is located at 5 min walking distance from the studio. It's a charming small guesthouse with a nice garden and a pool.
4 Bunk-bed
Shared Bathroom
Air-con
Private Room
The private room is next door to the studio. A quite small guesthouse where you could relax after your training day around the pool.
Private Bathroom
Double Bed
Air Con
Private Bungalow
The private bungalow is located at 3 min walking distance from the studio in a charming large garden with a pool.
Private Bathroom
Double Bed
Air Con
Food & Drink
Breakfast, Lunch & Dinner
Breakfast on training day*
Yoga Dunia's staff will prepare a buffet breakfast of fresh fruit juice, tea, coffee, yogurt, granola, oatmeal, topics, eggs, bread, and fruit slices.
Lunch & Dinner**
Nearby the studio you will find many restaurants serving local and western food. Our favorite places are Soka Warung, The lounge Bar and Sanghyang Restaurant.
* Included in tuition fee       ** Not included in tuition fee
Information
Location & Nearby Attractions
The Bali Yoga Training Center Yoga Dunia, is located in Nusa Lembongan, Bali, Indonesia. At 30 min boat ride of Sanur, Bali harbor. Nusa Lembongan is one of the most beautiful Islands of Bali, away from the crowded city. The island is covered by jungle and white sandy beaches.
Airport
The nearest airport is Bali Ngurah Rai International Airport, also known as Denpasar International Airport (airport code: DPS), which is located on the larger island of Bali, Indonesia.
From there, you can take public or private transport to the port of Sanur to catch a boat to the smaller island of Nusa Lembongan. Yoga Dunia Lembongan encourages you to land three hours before the time of the departure boat.
Boat transfer
From Sanur, you need to take a 30-minute boat ride to Nusa Lembongan and then the boat company will drive you to your hotel (ask them when you book your ticket).
Please be sure to check the boat timetables before arriving or even book your ticket a few days before to be able to catch a boat before their last departure on your arrival day. You may need to arrive in Bali a day earlier if you have a late flight.
Water on the island
Be aware we are on a small island so the tap water is not 100% fresh and it can be a little bit salty. As entire Indonesia, the tap water is not drinkable, just bring a reusable water bottle and you will be able to refill it at the studio.
Spa Treatment
Balinese massage is known as one of the best massages around the world. You will find many massage places on the island, even one just 2 min from the studio.
What to do during your day off
You will have 2 days and a half to discover the island. There are so many things to do rent a scooter and drive around stop on Jungut Batu beach to enjoy a late breakfast at Ombak Zero Waste Cafe, cross the famous yellow bridge and discover the little sister, Ceningan Island, day trip snorkeling or diving with the Manta Ray, surfing could be an option too.
FEE & Course Dates
Book with full confidence and a peaceful mind!
What you Get
What is included in the 200h Yoga teacher training course fee
24 days of training course
Detailed Vinyasa and Yin, Traditional Chinese medicine training book
2,5 day off to enjoy the island lifestyle
Healthy buffet breakfast on every training day
Refill water all day, herbal teas, coffee
Upon completion Yoga Alliance Certificate with the option to register
What is not included in the course fee
Ready to join us
and take a deep dive into the intensive, life-changing, yoga training in Bali!
This Yoga Alliance accredited 200hr Yin and Vinyasa yoga teacher training combined with a Chinese Medicine course will give you all the knowledge and confidence to teach relevant Vinyasa and Yin Yoga classes.
Have a Question about our Yoga Teacher Training in Bali? Check our FAQ page or
Talk to our Manager – Audrey
More COURSE
You may be interested in
55H Yin Yoga Teacher Training
50H Aerial Yoga Teacher Training
100H Yin Yoga Teacher Training