200hr Vinyasa & Aerial Yoga Teacher Training Course
WELCOME PACK – July 2024
We can't wait to welcome you to the course and meet you in July!
Thank you for registering for this 24 days yoga teacher training immersion with Rachel Ellery, and Pilu Nebreda. This welcome packet includes everything you will need to prepare you for our time together. Please make sure to thoroughly read through all the information and begin on the Anatomy Course and required reading list sooner rather than later.
Start to study
Anatomy Course
Start the Anatomy course at least 2 weeks before the training starts
To complete the anatomy course please follow the link HERE, and register yourself. Be aware that the 20h Anatomy course has to be achieved before the in-person course starts. 
If you have any issue with the link or registering yourself, email Audrey at contact@yoga-dunia.com
Please find HERE the sun salutation poster, start to practice and memorize the name of each asana as well as the sequence.
Arrival & Departure
Information
Course dates: July 21 to August 13
The training begins on Sunday, July 21, 2024 at 2:00 pm with our welcome circle to get to know each other, followed by your first yoga practice.
The training will conclude on Tuesday, August 13, 2024, after the Certificate Ceremony, followed by a celebration dinner; please note that the cost of this dinner is not included in the training fee.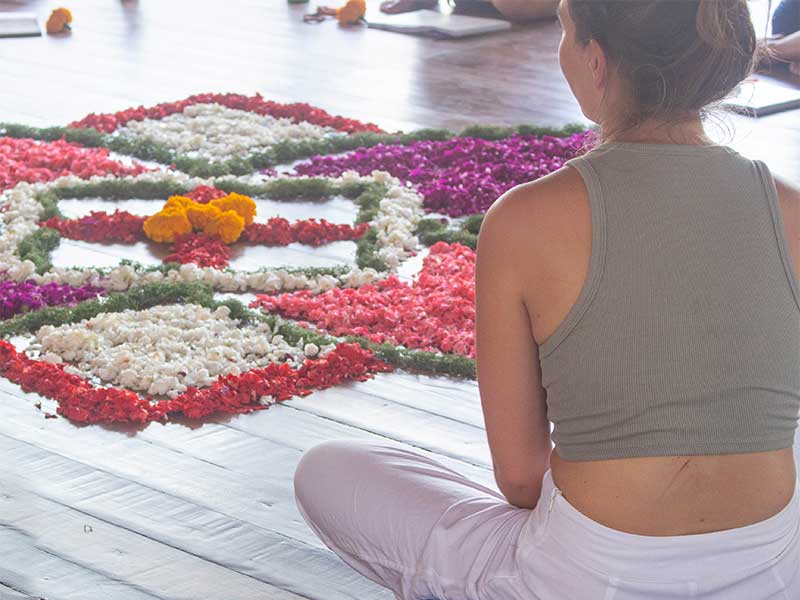 Advice to book your flight ticket: when should you arrive and leave Bali?
Be aware that in Bali everything takes more time than in other countries 😉
Arrival: The training starts on Sunday, July 21st at 2 pm, which means that in order to be on time, you will need to catch the boat at least around 11 am in the morning. Regarding the landing time, I always recommend landing at least 3 hours before your boat departure time.
You may also consider arriving the day before, in that case, I recommend staying one night in Sanur to be close to the port for the boat the next day.
Departure: The training ends on the evening of August 13th, you will not be able to leave the island until Wednesday, August 14th The first boat leaves at 7 am, so I recommend you to book your flight back home in the afternoon of the 14th.
How to get on
Nusa Lembongan
Airport:
The nearest airport is Bali Ngurah Rai International Airport, also known as Denpasar International Airport (airport code: DPS), which is located on the larger island of Bali, Indonesia.
From there, you can take public or private transport to the port of Sanur to catch a boat to the smaller island of Nusa Lembongan. Yoga Dunia Lembongan encourages you to land three hours before the time of the departure boat.
From Sanur, you need to take a 30-minute boat ride to Nusa Lembongan and then the boat company will drive you to your hotel (ask them when you book your ticket).
Please be sure to check the boat timetables before arriving or even book your ticket a few days before to be able to catch a boat before their last departure on your arrival day. You may need to arrive in Bali a day earlier if you have a late flight.
Boat Ticket Booked through Yoga Dunia:
If you booked your boat ticket through us we will contact you one week before the training starts to arrange the transfer from Bali to Nusa Lembongan.
Boat Ticket Booked by yourself:
We recommend choosing a boat company that land on Mushroom beach. You could book with Tanis Fast Cruiser (WA +62 821 4781 7323) or Marlin Fast Boat (WA +62 811 3999 832).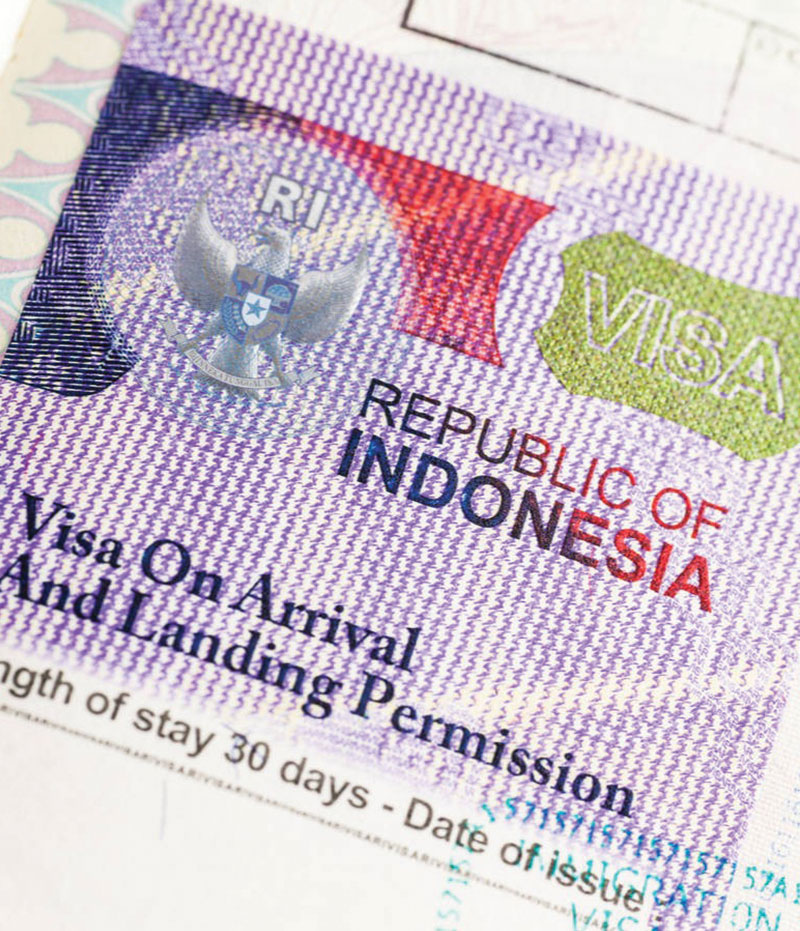 Visa
How to get it & process
VOA - Visa On Arrival
Visa on Arrival applicable to holders of passports from the following countries (in alphabetical orders):
Albania, Andorra, Argentina, Austria, Australia, Bahrain, Belarus, Belgium, Brazil, Brunei, Darussalam, Bosnia Herzegovina, Bulgaria, Cambodia, Canada, Chile, China, Croasia, Colombia, Cyprus, Czech, Denmark, Ecuador, Egypt, Estonia, Finland, Guetamala, France, Germany, Great Britain, Greece, Hongkong, Hungary, Iceland, India, Ireland, Italy, Japan, Jordan, Kazakhstan, Kenya, Kuwait, Laos, Latvia, Liechtenstein, Lithuania, Luxemburg, Macau, Malaysia, Maldives, Malta, Monaco, Morocco, Mexico, Myanmar, Netherland, New Zealand, Norway, Oman, Palestine, Panama, Peru, Philippines, Poland, Portugal, Qatar, Romania, Russia, Rwanda, Saudi Arabia, San Morino, Serbia, Seychelles, Singapore, Slovakia, Slovenia, South Africa, South Korea, Spain, Suriname, Sweden, Switzerland, Taiwan, Thailand, Timor-Leste, Tunisia, Turkey, Ukraine, United Arab Emirates, United States of America, Uzbekistan, Vatican, Vietnam
 Here are the requirements to obtain Visa on Arrival 
Passport valid for 6 months from the date of entry;
Return or onward ticket (which indicates the date of departure from Indonesia);
Visa on Arrival fee Rp. 500.000,- which can be paid in a few different currency and credit card.
How to extend your visa
The VOA and the E-VOA are extendable for another 30 days so if you plan to stay more than 30 days in Indonesia and less than 60 days you can do it with that kind of Visa.
The easiest visa to apply for is the E-VOA. You just need to go to the website molina.imigrasi.go.id to apply for it, but don't wait until the last minute to do so – allow at least 10 days.
If you have a simple VOA, then the process is a little different. You have two options: either you apply for the extension yourself and you'll have to go to immigration 3 times, or you go through an agent and you'll only have to go once.
E VOA - Electronic Visa On Arrival
An Electronic Visa on Arrival (e-VOA) can be used to do such activities as tourism visits, Government officials' visits, Business talks, and meetings visits, Purchasing goods visits, Meeting visits, and Transit.
Period of stay: the period of stay in Indonesia is granted for 30 days and is extendable for the next 30 days. A stay permit derived from this visa cannot be converted into other types of visa.
Requirement: e-VOA application is submitted with the following requirements.
1. A legal and valid passport for at least six months
2. A return ticket or onward ticket to continue the trip to another country
Visa Application and Grant
Go to molina.imigrasi.go.id and fill in the required information in the provided form.

Make sure all information is correct, then proceed to payment.

Choose a payment method, either a debit or credit card within the Visa, MasterCard, or JCB network.

Fill in all the details on the payment page and verify your payment as requested.
After completing payment, an e-VOA will be sent to you by email. The next step is as follows.
1. Download or print your e-VOA before departure.
2. Go to the e-VOA counter upon arrival.
3. The officer will scan the QR code on your e-VOA, verify your information, and put a VOA sticker on your passport.
Countries: same as the VOA
Others situations
If the country you are coming from or if you wish to stay longer than 60 days, you will need to contact a specialized visa agency. I recommend that you contact MPG Visa Extension by email at info@mpgbali.com.
Where to stay
Accommodation
Hotel booked by yourself:
We recommend choosing a hotel or guesthouse within walking distance from the studio so you can come and go quickly during break time.
The studio is located on Tamarind Street, please see the location on Google Maps
Hotel booked through Yoga Dunia:
If you choose to book your accommodation with us, thank you!
Please find below the hotels' options and their location, like this you can do your check-in and refresh yourself before coming to the studio.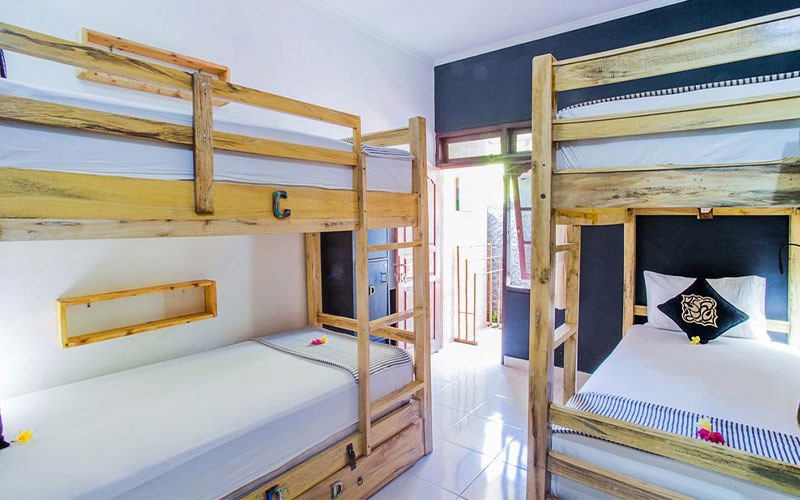 Dormitory
Suba Homestay or Rigil's are located a 5 min walking distance behind the studio.
Contact WA +62 813 3730 3794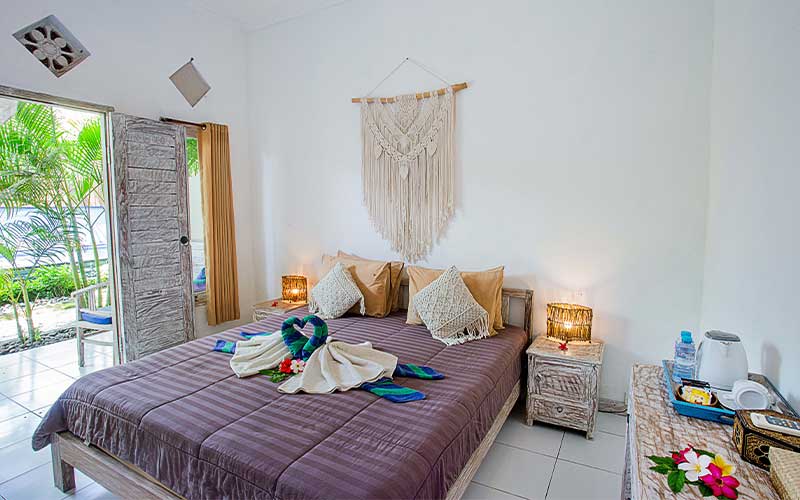 Private Room
Naturale Guesthouse is just next door to the studio.
Contact WA +62 853 3327 6748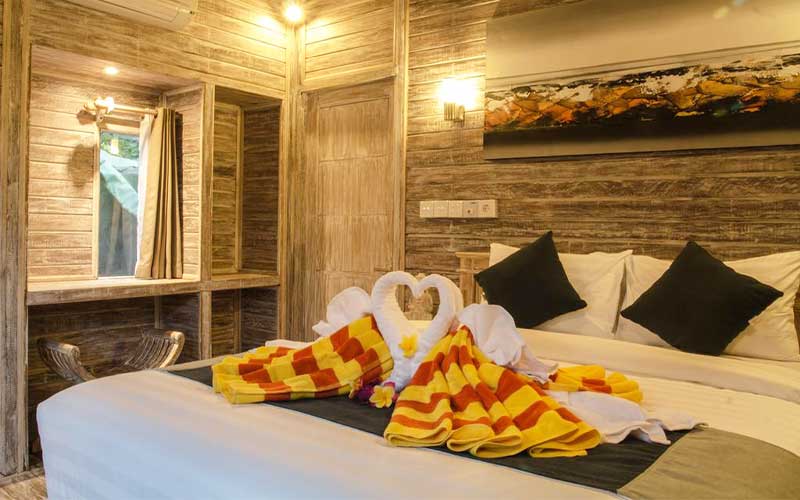 Private Bungalow
Syron is located at 2 min walking distance of the Studio.
Contact +62 821 4634 5883
* In case of non-availability of the room you choose Audrey will contact you personally to inform you of the new hotel location. Be sure that you will be relocated to the same kind of hotel you choose.
Time to pack your belongs
Important items to remember to bring
Your Yoga Mats
Mats and other props will be provided, but if you prefer not to use the mats from the training center, then please bring your own. If you don't have a high-quality yoga mat already, we highly suggest buying one now! Our favorite brands are Jade Mats (eco-friendly), Manduka, Lululemon, and Liforme.
Confortable Yoga Clothes
If you haven't invest in some yoga clothes that make you feel like a million bucks, now is also a great time to do that! Make sure you have full range of motion in any outfit you bring for yoga, whether that means spandex leggings or loose cotton pants.
Reusable Water Bottle
Since we can't drink the tap water in Indonesia, bringing a portable, reusable water bottle is essential. In doing our best to help the environment, we highly suggest bringing a metal or glass water bottle with you and refilling it instead of buying a single-use, throw-away plastic water bottle a few times a day.
Mosquito Repellant
We recommend either bringing this with you or having enough time before the course starts to buy some in Bali or Nusa Lembongan. There will definitely be places to buy some in town, but if you prefer something natural, you might want to bring some from home that knows and trusts.
Adapter
Make sure you have the proper adapter to be able to plug your device into Indonesian outlets. Indonesian uses European-style two-pin round plugs ("C"-type is the most common variant found). Voltage is at 220 V 50 Hz. Make sure you bring this with you or having the time buying one before the course starts, you should able to find it in town.
Sunscreen
You will be in class a lot for the training, but you have a 1,5-hour lunch break every day and you are free for the entire day off – and the beach is right at our front door! Please choose a natural sunscreen. You will want to go for a swim and much of the toxic cream melts into the ocean causing the disturbance in the water and affecting marine life.
Bathing Suit & Warm-Weather Clothes
With the beach at our doorstep and a small pool on location, mixed with very warm weather, you will likely be taking a dip during your breaks and days off. Remember to bring a swimsuit and comfortable warm-weather clothing to lounge and relax in when not in class.
Rainy Season
As they say around here, "it's the months of BERS." Our rainy season is USUALLY the month of December to the tail end of March but with the global warming, the weather has been unpredictable. Usually sunny during the day and early evening or late night, it pours. It's a good idea to bring your rain jacket. Locals wear a poncho and those are very handy if you are driving a scooter. No point in bringing umbrellas. Trust us, they do nothing!
A Debit Card and some Cash
You can get cash at any local ATM. Make sure your bank knows you will be traveling abroad so that you are able to take out money when you arrive. Don't expect small, local stores to accept credit cards – in fact, most stores won't accept them. So make sure you have enough cash with you when you go into town to be able to get by without a card.
We recommend withdrawing cash in Bali before coming to Lembongan as the ATMs are sometimes empty for a few days.
A Notebook and a pen
Although you will receive the training manual when you arrive, and you can take notes in it, you will likely want to have a notebook with you for extra notes, journaling…
You could also like to bring some sticky notes, a colored pen, a highlighter… any stationery you ussually use.
If you forgot don't worry we have a kind of stationery shop on the island. 
Practice and Study
Be ready physically
Yoga Teacher Training courses tend to be very physically demanding, with lead asana classes, methodology workshops, and teaching practicum sessions. It is highly recommended that students prior to attending the course begin practicing asana 5-7 times a week (if they are not already doing so).
We also recommend that students begin developing a self-practice. Learning how to lead yourself through your practice is a pivotal part of becoming a yoga instructor. Being a yoga teacher is very much about sharing your experience on the mat and your self-practice, and if you are unable to lead yourself, it will be challenging to lead others. If it is not a part of the way you currently practice yoga there's no need to stress, in our course we will study in detail how to develop one's self-practice, but as you prepare for the yoga training course, begin at least trying to practice on your own a few times a week.
When taking led studio classes, begin taking note of how your teachers engage with their students. Observe the language they use when giving verbal cues and instructions, how they transition, and when they model postures. After classes write down any verbal cues that you felt were interesting, effective, or inspiring. Try after class to map out the sequence that you just took and observe how it was structured, if there were parts that you would change if certain postures felt they were held too long, or transitions that felt awkward and lacked fluidity. Take the intention of becoming a student of not only asana but of how asana is taught and the philosophy behind it.
Recommended reading list
For the 200hr Program Training Course, we recommend starting your Yoga Training Journey with: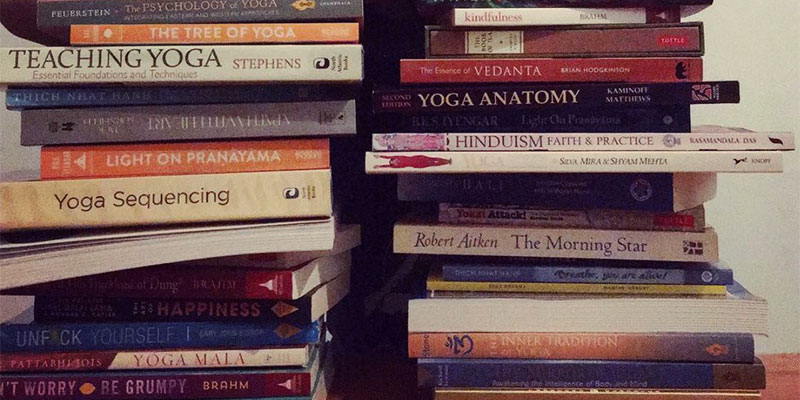 TEACH what is inside you, not as it applies to you, to yourself but as it applies to the other
Payments are due in full at least on arrival. We accept either WeTravel payment, Cash – Indonesian Rupiah or US Dollars – and Credit card (extra charge 3%) for the remaining course tuition fees. If you have a balance owed, you will receive an email from us with further instructions as the payment deadline approaches.
Have a Question?
Talk to Audrey