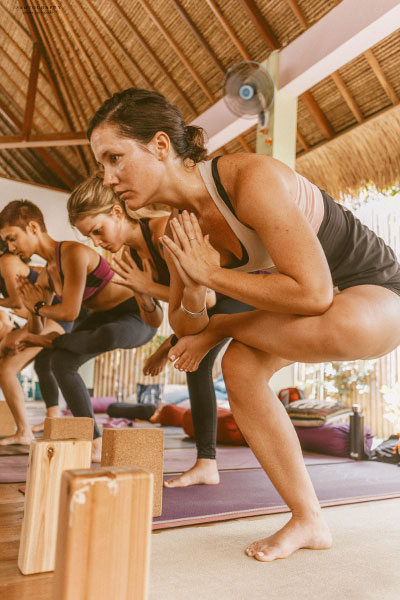 Yoga Class Lembongan by Yoga Dunia
Yoga Dunia was founded in November 2017 with the intention to bring Yoga to everyone. Our Yoga classes are designed to be suitable for everyone.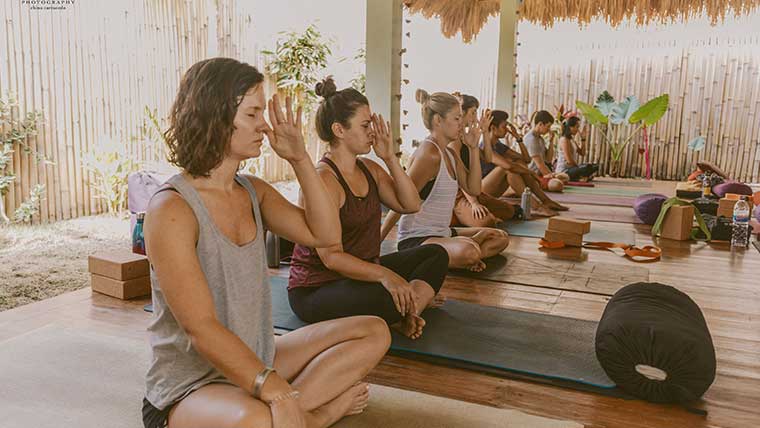 What is Yoga
Yoga is an ancient, traditional, and spiritual discipline based on a subtle science, which focuses on bringing a harmonious connection between mind, body, and breath. The word 'Yoga' is derived from the Sanskrit root "Yuj" which means "to join", "to yoke" or "to unite".
Our teachers offer you a different range of classes which are a smooth blend between tradition and modernity, keeping it accessible to everybody.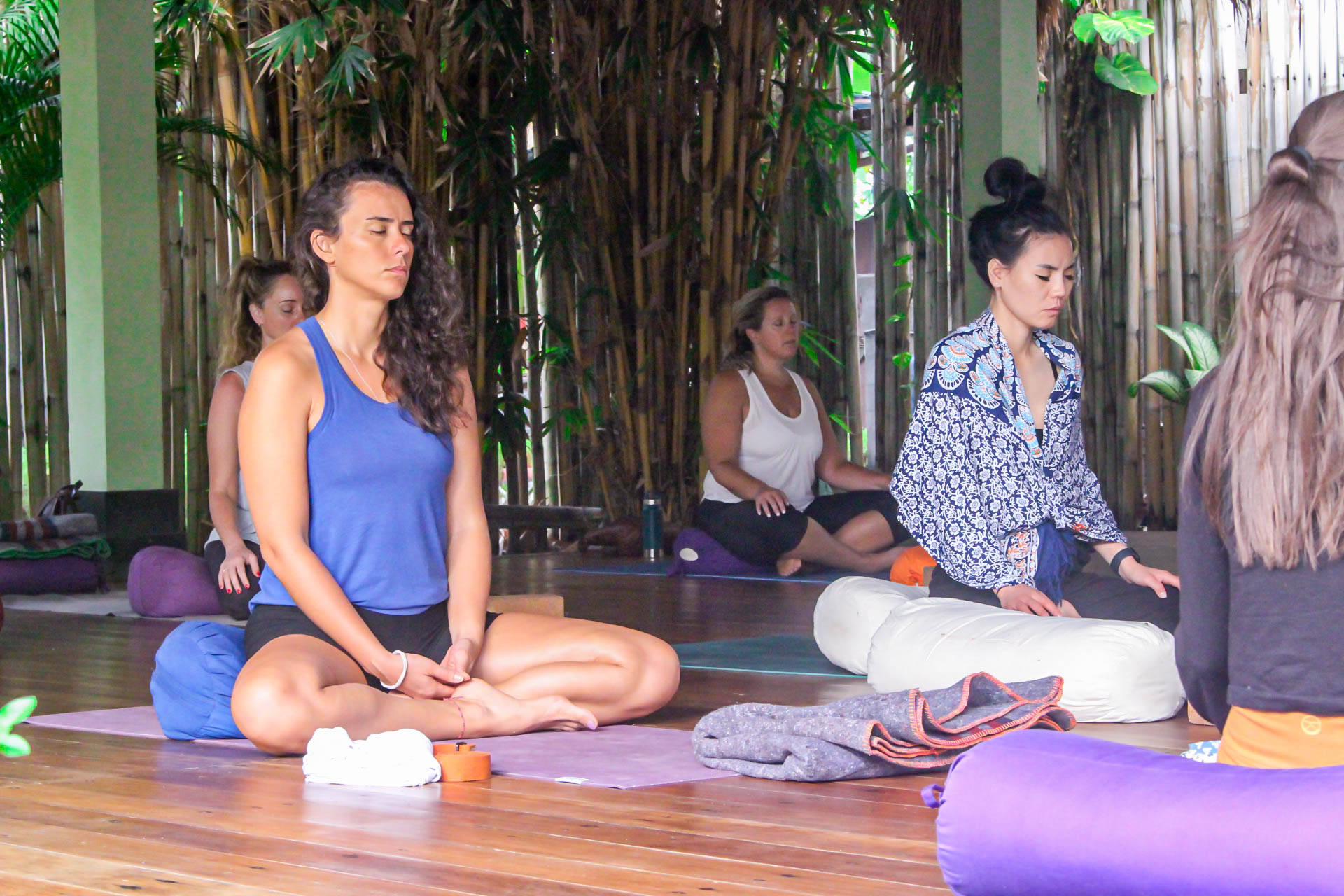 Vinyasa Yoga
A Vinyasa class is traditionally designed to prepare you for the "Peak Pose". Our Teacher will guide you in asanas (postures) after asanas following the breath flow preparing the body and spirit for the challenge pose before cooldown postures and Savasana.

Morning Flow
The class is designed to wake up, invigorate, strengthen and prepare your mind and body for the rest of your day. Moving asana after asana with the flow of your breath.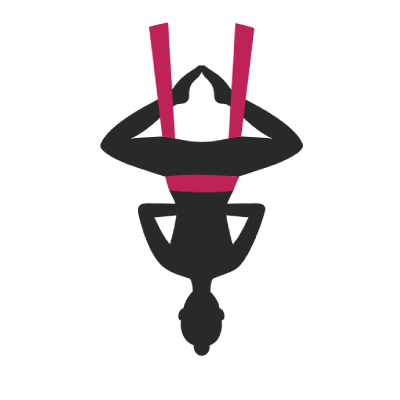 Aerial Yoga
This is a modern type of yoga. It is based on an ancient practice, "yoga kurunta."
It is a creative, fun, alignment-based style of yoga that can also be used as an additional practice to support and enhance everyday asanas such as warriors. Practicing inversions with the belt becomes easier and safer by practicing aerial yoga. Want more about Aerial Yoga check that Aerial Yoga blog

Yin Yoga
Yin Yoga is a slow-paced style incorporating principles of traditional Chinese medicine, with asanas (postures) that are held for a longer time to maximize a deep stretch into the fascia-focused areas.
As we hold the pose, we can become more receptive and reflective to what's happening within and around the body, in addition to noticing our reactions and responses to the stillness. Variations/props are offered to help you relax within the target area.
The practice encourages mindful, conscious breathing, listening to your body, and observing the mind, returning you to a sense of wholeness. Want more about Yin Yoga check the Yin Yoga Blog.

Slow Flow
A slow flow evening yoga class is a peaceful and gentle practice focused on deep stretching, relaxation, and mindful movement. It begins with centering and setting an intention, followed by slow, deliberate movements synchronized with the breath. The class includes fluid and graceful sequences, longer-held poses for stretching, and concludes with a restorative relaxation pose, leaving participants feeling calm and rejuvenated.

Master Yin & Yoga Nidra
A 90 min Yoga Class, begins with 60 min of Yin Yoga followed by 30 min of Yoga Nidra. Yoga Nidra is a guided meditation practice that induces deep relaxation and rejuvenation, often called "yogic sleep." It helps reduce stress, improve sleep quality, and promote overall well-being.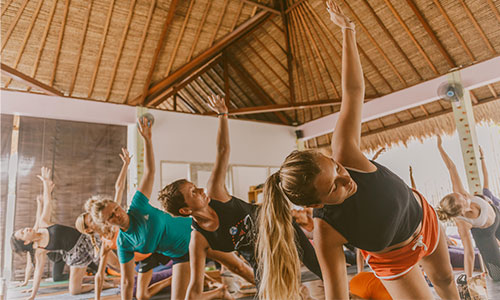 How long is the class?
The yoga class is 75min long.
I'm a beginner, may I join any class?
Yes, you can join any class. Our purpose is to bring yoga to everyone so we adapt our class to the students.
What is the price for one class?
Drop-In class – single class is 100.000Rp, extra charge 50.000 Rp for Aerial. We also offer some packages like pack 3 for 270.000Rp or pack 5 for 450.000Rp. Ask at the reception on arrival.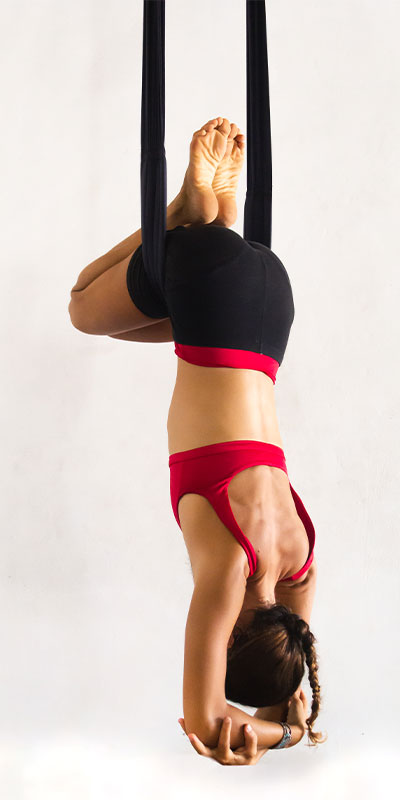 Do I have to book in advance?
Booking in advance is mandatory only for Aerial yoga because the space is limited, for other classes we recommend to our students be there 10 min before the class starts.
What Should I Wear?
We recommend wearing comfortable clothes. 
What Should I Bring?
You! we provide all the yoga equipment needed for each class.